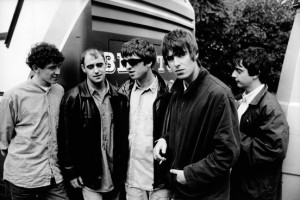 Oasis is the gift that keeps on giving. Years after their final performance, the '90s Britpop giants continue to entertain, mostly for the Gallagher brothers' often hilarious continued offstage sniping. Really, CBS should have made one or both of them an offer to take over the Letterman show. We would tune in regularly. But singer Liam Gallagher threw fans into a frenzy last night when he tweeted "OASIS" one letter at a time (and then helpfully summarizing, in a single tweet, "OASIS LG" (yes, he signs his tweets "LG")).
Does this mean a reunion is in the works, as many have speculated? No. It means Liam was either screwing with fans or drunk or both. Paul 'Bonehead' Arthurs, former guitarist of the band, told NME he thought maybe Liam was just thinking out loud, so to speak, because the two had been out drinking together.
In reaction to the tweets, bookmakers suspended bets on Oasis headlining Glastonbury Festival. Yes, Liam Gallagher's tweets caused such instability in the market as to suspend trading.
In any case, this is as good an opportunity as any to revisit, as NME did, the comedy gold that is Liam's twitter account, as well as a recent viral hit – brother Noel's commentary on old Oasis videos.
"Oh, I was fucking drunk…in this video. Look how pissed I am there. That's me really pissed."
More like this:
Riffs, Rants & Rumors: Beady Eye Finds Life After Oasis
Sound And Vision: Why I Miss the '90s
Sound And Vision: Celebrity Feuds " Pop Is a Battlefield, World War II