The Good
Bonnaroo rocks again
Bonnaroo was this past weekend, and there were many moments that were to be expected: Radiohead was stunning, Eminem was fierce, Danzig tried to punch out a photographer. Then there were the surprises"The Root's tribute to MCA, Alice Cooper performing Born This Way and, best of all, the return of D'Angelo. The R&B singer, who's been out of the spotlight for 12 years, was introduced by ?uestlove during The Roots' set, and took the audience through classics by Hendrix, Led Zeppelin, Beatles, and Parliament. Watch him perform She Came in Through the Bathroom Window below.
Glen Campbell, Josh Homme star in A Better Place
Glen Campbell's video for A Better Place is nothing if not poignant. In it, the country singer, who is battling Alzheimer's, flips through photos of his life, reminiscing about the good times as Josh Homme from Queens of the Stone Age hovers nearby. A Better Place is intended to be Campbell's last video, and is the single off his final album Ghost On The Canvas. Just listen to the line Some days I'm so confused Lord, my past gets in my way, and try not to get teary-eyed. We failed.
The Bad
Lady Gaga strikes back
After being hit with a pole wielded by a backup dancer during her concert in Auckland and suffering a mild concussion and black eye, you'd think things get better for Lady Gaga. But NOOOOO, along comes Madonna with a couple of kicks to the singer while she's down. Gaga responded to Madonna's jabs during her Auckland concert"and she did it while PLAYING A KEYBOARD MOTORCYCLE, people! Check it out below. Oh, and Gaga, we think the black eye looks boss.
George Washington is rolling over in his grave at this one. Greta Hawkins, principal of PS90 in Coney Island, banned kindergarteners from singing Proud To Be An American at their commencement ceremony, deeming the lyrics too grown up. But she let the class perform Justin Bieber's Baby, naturally. You know, cause the lyrics Are we an item / Girl quit playin' are totally age-appropriate for a five year old.
The Ugly
Lauryn Hill in trouble for tax evasion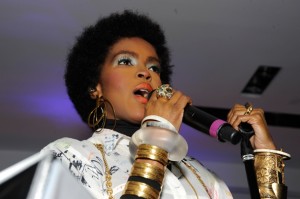 Did you want to know the whole story behind Lauryn Hill's refusal to pay taxes for two years? Neither did we. But the singer felt compelled to write a meandering explanation on why she didn't pay taxes on her $1.8 million income. If you feel like reading a bunch of bull, knock yourself out.
Kanye West chastises Dubliners
When Dubliners throw coins, Kanye West throws shade. The rapper stopped his show after discovering someone had thrown a coin up on stage, and then blamed the coin for messing up his flow, saying Don't throw no hard sh** onstage. Yeah guys, only the soft variety, please.
Miscellany