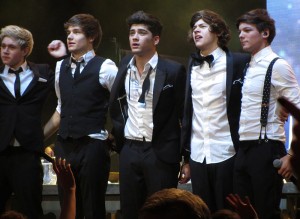 About a month ago, after One Direction dropped their latest release, Midnight Memories, most reviewers couldn't help but point out the album's shameless knock-offs of some of the biggest pop hits of the '80s including "Jessie's Girl," "Pour Some Sugar On Me," and pretty much any song by Asia, just to name a few. And, yes, while the songwriters behind the squeaky clean boy band's smash singles make their musical points of reference pretty obvious to any listener older than 12, they also manage to pull off some patently ingenious lyrical references that slipped by most recaps of the album " mostly because that was precisely what they were designed to do.
Upon a first listen, the first verse of "Better Than Words" sounds like pretty standard fare for a One Direction song: a just-generic-enough description of crazy, undeniable love that sweeps you up in its whirlwind of affection and excitement.
Better than words
But more than a feeling
Crazy in love
Dancing on the ceiling
But, if you haven't noticed it already, each line is also a song in its own right. The second line. The third line. And, you guessed it. These aren't just lyrics in a One Direction song, they're built-in references to seminal pop hits. And they're placed directly next to the title of the One Direction song, itself the very first line of the song.
(more…)

Kip Moore's debut title Up All Night, is well named, because the newly minted country star hasn't had much downtime since the album came out this spring. Not only did his single "Somethin' 'Bout a Truck," become a Platinum seller and summertime anthem but his next single "Beer Money," is headed in the same direction. Always a road warrior, Moore has just signed onto Eric Church's Blood, Sweat & Beers Tour and is making plenty of high-profile appearances, too. Recently Moore shared some of his precious downtime telling us about the past few month including the one thing he can't get even though he tries and tries (hint: it's got four wheels).
OS: So what is the story with the truck? Did you get it?
KM: I finally got a new truck! It's great. I was driving around in it yesterday before I left and it's great.
OS: So this is the kind of truck you sang about in "Somethin' 'Bout a Truck?"
KM: No, this is a new one. That was an '86 that I wanted. I still haven't found one of those.
OS: "Beer Money" has been doing well on the radio. Congratulations! You wrote that one, didn't you?
KM: I wrote all the songs on the record and, you know, just growing up in my hometown I just remember feeling that way all that way through college. The whole week was all about savoring what was coming, making just enough money for fun on the weekend. Small town life can be very suppressing for a young person. When you are older and settled down, that life make sense. When you are young, everybody lives for the weekend. It was all about Ramen noodles and we had a case of the cheapest most water downed beer. But it was all great. (more…)