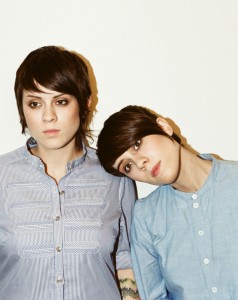 In anticipation of the January 29 release of their seventh LP, Heartthrob, Tegan and Sara are streaming a new song from the record entitled "Shock To Your System," via Vanity Fair. According to Sara Quin, the song was written during the depths of winter in Montreal and the lyrics are an interior dialogue between the part of me that was transfixed by my loneliness and the other part of me that was ready to get over it. With thumping drums, swelling synths, and the twins' mesmerizing vocals, the song is another stunner, portending good things for Heartthrob. Check out the new tune here.
Check out OurStage act Vic and Gab if you can't wait for the new Tegan and Sara album.
More like this:
Vanity Theft is part of a pedigreed lineage of female rock bands. The Runaways, The Go-Gos, Sleater-Kinney"you know the sort. Girls who elbow their way through the male-driven rock paradigm and make a place for themselves in the boy's club. If you like Anatomy (and you will like Anatomy), be sure to listen to the Houses Haunted Tape Remix. The track transforms the original into a mishmash of digital chirps, chopped-up chants and great stomping beats í  la Sleigh Bells. Don't worry, all the hooks of Anatomy are kept intact, clawing their way into your brain while jagged soundscapes add a sinister edge. Limb From Limb, with its lashes of electric guitar and synths is just as fierce. With vitriol dripping from each of singer Alicia Grodecki's words, the band dares you not to dance. We can only say, you go grrrls.
"Anatomy" – Vanity Theft