It's been nearly eight years since George Michael released an entire album of new music, and three since he put out a single that wasn't a cover of New Order's "True Faith." But in 2011, the singer-songwriter starred in what must have been one of the year's most gripping YouTube videos, two minutes as gripping and heartfelt as anything on Listen Without Prejudice Vol. 1, his essential 1990 album.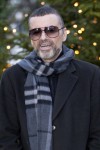 There was no music, and Michael didn't sing a note. In the clip, which was posted on December 23, Michael gave a press conference in which he discussed his recent near-death experience that began on November 21 on the Vienna stop of his forty-eight-date European tour and which he described as "the worst month of my life." The normally robust singer, who had contracted a chest infection that was later diagnosed as life-threatening pneumonia and spent a month in hospital in Vienna (including ten days in the intensive-care unit), appeared gaunt and gray, often struggling to catch his breath.
In a year that took so many of music's greats (R.I.P., Amy Winehouse, Nikolas Ashford, Phoebe Snow, Vesta Williams, Clarence Clemons, Dobie Gray, Billie Jo Spears), Michael is truly lucky to be alive "and he knows it. So what's next? First, as he said in the interview, he will reschedule the cancelled dates on the Symphonica Tour that he was staging throughout Europe and the UK when his illness struck. The shows featured Michael performing his own hits and non-hits as well as select covers (including Winehouse's "Love Is a Losing Game") with a symphonic orchestra.

No discussion of the last twelve months in music would be complete without a proper shout out to Adele, the blue-eyed, soulful Brit who ruled 2011 with one album (the multiply GRAMMY-nominated 21) and two No. 1 singles ("Rolling in the Deep" and "Someone Like You"), so here we go.
Girl!
Okay, now that we've gotten that out of the way, here's what was hot and not about the rest.
HOT
1. Drake: Last year, he called his debut album Thank Me Later, so now feels like the right time to express our genuine appreciation for the Canadian rapper who balances tough and tender so perfectly. With his second album, Take Care, and two of its key cuts, in particular"the fantastic first single "Headlines" and the title track (featuring Rihanna)"he brought sexy back to rap for the first time since ladies loved (LL) Cool J.
2. Girls on film: From Britney Spears' "Till the World Ends" to Lady Gaga's "Judas" to Jennifer Lopez's "I'm Into You" to Katy Perry's "Last Friday Night (T.G.I.F.)," it was an excellent year for women in pop videos. But it was Ke$ha in "Blow," Kelly Rowland in "Motivation" and Rihanna in "We Found Love" that injected new energy into a decades-old art form and elevated it above and beyond promotional tool to indispensable companion piece.
3. Haley Reinhart and Casey Abrams "Moanin'" on American Idol: I didn't love the bulk of their solo performances during the 10th season of Idol, but when Reinhart and Abrams came together on the Top 8 results show for the vocalese version of Charles Mingus' "Moanin'," the unexpected result was the best musical moment I saw all season.
4. Diana DeGarmo on The Young and the Restless: Speaking of Idol losers, season three's runner-up's stint as Angelina on daytime's No. 1 soap hasn't been so well-received by critics or fans, but I dissent. There's both artistry and comedic gold in DeGarmo's portrayal of a tone-deaf "singer" and daughter of a New Jersey mob boss, and I'm looking forward to being as wowed by her Pygmalion-style makeover as I was by her Idol rendition of "Don't Cry Out Loud" all those years ago.