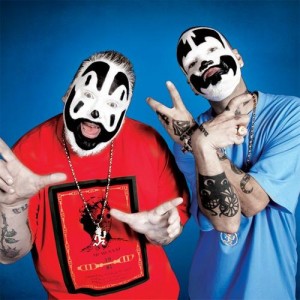 Last October, the F.B.I. classified Juggalos (Insane Clown Posse fans) as an official gang in a National Gang Threat Assessment report. The document describes them as "a loosely-organized hybrid gang… rapidly expanding into many US communities."
In defense of this report, the I.C.P. duo known as Violent J and Shaggy 2 Dope have decided to take legal action to investigate the situation and try to sue the F.B.I. for "monetary compensation and/or other injunctive relief on behalf of their fan base," according to The New York Times. The group made an official announcement of this plan at their annual Gathering Of The Juggalos this past weekend, and they have also created a website, www.juggalosfightback.com, "where fans can provide information about harassment, arrests or denials of rights they may have experienced because of their affiliation with the band." Watch I.C.P.'s announcement in the video below:
More Like This:
After a successful run of his debut "Violent Torpedo of Truth/Defeat is Not An Option" stand-up tour, "comedian" Charlie Sheen decided to further expand his comedic brand to a whole new market; when contacted by Insane Clown Posse frontman Violent J to "introduce acts and perform his comedy stylings" at the 2011 Gathering of the Juggalos, the actor jumped at the opportunity to finally have his name spread to a mainstream audience. Armed with nothing but the clothes on his back and "courage" (blow) to spare, Sheen headed to the quaint village of Cave-In-Rock, Illinois, where the festivities were to be held.