CMJ Music Marathon and Film Festival is set to take New York City by storm on October 20 – 24 2009, but you need to act fast if you want to see your name on the bill. Applications to play the festival will be considered only through July 15th, so apply now if you think you have what it takes.
Those selected will join the ranks of over 20 other OurStage artists who have been able to add CMJ to their resumes. Check out our past coverage of CMJ to get a feel for what the CMJ programmers are looking for. Here's a little sampling to keep your ears happy:
Fans and artists who aren't quite ready for the spotlight still need to hop to it because the price of festival badges goes up as time goes on. Register for your tickets now and you can save 15%! Get your CMJ badges here!
Just last week we told you about all the Glitterati spotted on OurStage including Rainn Wilson, Rachel Ray and T-Pain. Well now, they are coming out in droves!
You might remember Vivian Darkbloom from our post about their Wii/Guitar mashup. They are getting all kinds of buzz for their creativity and are currently featured on Rainn Wilson's new site, SoulPancake. The site is a place where artists and intellectuals meet to discuss big, and sometimes taboo, questions. Vivian Darkbloom's Rob Morris was selected for the sites inaugural artist interview, which covered a variety of strange and interesting topics:
SP: When do you feel most creative?
RM: I feel most creative when I'm in a place of absolute loneliness. Out of emptiness, I feel most strongly the need to create.
Then, the very next day, guess who pays a visit to Vivian Darkblomm? OK Go's Andy Ross and Damian Kulash! They had to give Rob's Wiitar a spin for themselves. They also did some YouTube marketing brainstorming together so keep an eye out for some interesting videos. We all know what OK Go is capable of producing, so we know whatever they have up their sleeves is bound to be good!
For our parting shot, we offer you a somewhat related video pulled from the ever-entertaining SoulPancake. See, we told you Dwight Schrute loves indie music!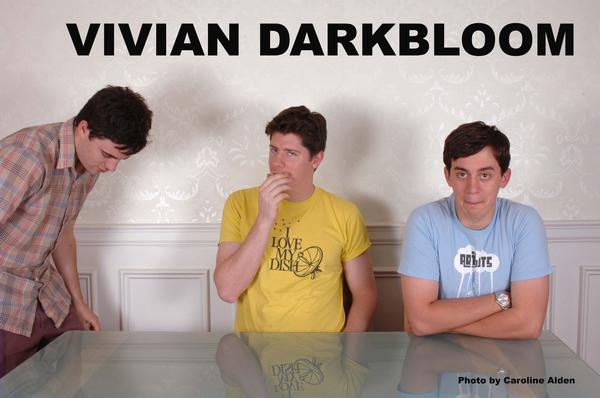 Hey! You! Put that video game controller down and get over here! I've got something that might interest you…
Today, in the Boston Globe, OurStage band Vivian Darkbloom was featured for an unusual choice of musical equipment. Guitarist Rob Morris has fashioned a Wii Remote (the controller for the popular Nintendo Wii game console) to his guitar as a means for controlling his effect usage. He uses the remote's motion-sensing capabilities to allow the tilting of his guitar, as fed through computer software, to control how his guitar sounds.
Read the full article here and check out Vivian Darkblooms fanclub, and see if you can make your own Wii-powered guitar!