The MTV Video Music Awards always serve up big surprises and this year was no different.  From Beyoncé's big news to Lady Gaga's dragged-up, stand-in, this year's show didn't skimp on the stumpers.
Lady Gaga kicked off the show with a monologue from her male alter ego, ˜Jo Calderone'. "She left me! She said it always starts out good and then the guys"meaning me, I'm one of the guys"we get crazy. I did. I got crazy. But she's f—ing crazy too, right?" The narrative was hard to follow at first, and I'm guessing die-hard Gaga fans figured it out before the rest of us.  Still, she delivered an intense performance of You And I with a guest appearance by legendary guitarist, Brian May of Queen. What you didn't see on television was the tumble Gaga took off her piano towards the end of her performance.  Ever the pro, she moved on before the crowd even noticed her slip up.  Her video for Born This Way earned her two awards; Best Female Video and the newly created Best Video with a Message category.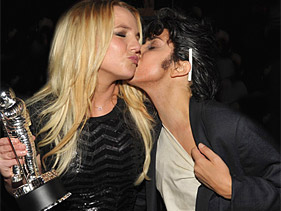 Jay-Z and Kanye West took the stage for an unexpected performance of their Watch The Throne hit, Otis.  While it was instantly exciting to see the two onstage together, the performance was not as magical as expected.  The best part of their set was when security bum-rushed a stage-crasher who tried to interrupt the  lackluster performance.
Nicki Minaj was nominated in three categories and  nabbed the Moon man for Best Hip Hop Video for Super Bass. She presented the first award of the night to tour mate, Britney Spears for Til The World Ends for  Best Pop Video. In her speech, a healthy, happy-looking Spears thanked God, her kids, and ex-agent boyfriend, Jason Traiwick.  Gaga presented Spears with the Michael Jackson Video Vanguard Award telling the crowd, I used to hang posters of her on my wall and touch myself when I was laying in bed, before introducing an awesome montage of Britney's videos, complete with a legion of dancers donning her most iconic outfits and legendary dance moves.

After accepting her award, Britney introduced Beyoncé, who sang Love On Top in a suspiciously body-conscious outfit of black pants and an oversized blazer.  While those of us on the black carpet had already seen the secret bulge at arrivals, she teased the crowd during her intro saying, I want you to stand up on your feet, I want you to feel the love that's growing inside of me." At the end of her set she opened her blazer to reveal a shockingly developed baby bump.  The smile on her face as she rubbed her belly was the highlight of the night, as husband Jay-Z and Kanye West celebrated from the front row. Her video for Girls (Run The World) won in the Best Choreography category, but lost to Katy Perry for Video Of The Year.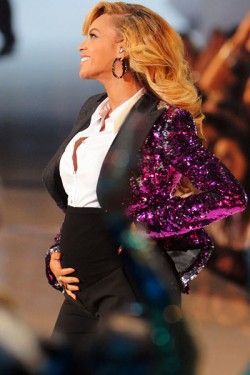 Perry (who had a whopping ten nominations this year) also took home the Best Collaboration title for E.T. with Kanye West. Her husband and past VMA host, Russell Brand, kicked off a touching tribute to Amy Winehouse who died last month at twenty-seven.  He highlighted her amazing voice, which he called a timeless sound like a roar from the guts of humanity, telling the crowd, When a talent like Amy Winehouse comes along, it affects everybody." He was joined by Tony Bennett, who likened her to prolific jazz singers, Billie Holiday and Ella Fitzgerald before debuting a duet he recently recorded with Amy. Bruno Mars delivered a loving performance of her cover of Valerie ending it with a final farewell, singing, Say Amy, oh Amy/ I love you darling, I love you darling/ Say Amy, whoa Amy, we'll miss you baby.
Other stand-out performances came from Chris Brown, who didn't win a trophy, but wowed the crowd with his stellar dance moves and Adele, who belted out Someone Like You so effortlessly, it's no wonder she's every artist's favorite artist. Odd Future's Tyler ˜The Creator' won the coveted Best New Artist award, beating out newbies Kreayshawn, Big Sean and Wiz Khalifa with his hit,  Yonkers prompting a profanity-ridden acceptance speech from the Wolfpack front-man.
Lil Wayne closed the show with a bang-literally, when he smashed the guitar he was using at the end of his set.  He started off with an auto-tune assisted rendition of How To Love and followed up with a rocked-out version of John, set to Black Sabbath's Iron Man.  Weezy dropped the digital version of his highly anticipated Carter IV album following the show, with the physical album in stores yesterday.