You may not be familiar with this beautiful British import, but VV Brown is no newbie. Born Vanessa Brown in Northampton, England, the beautiful singer-songwriter-model-actress is already a star overseas.  Her debut album Travelling Like The Light soared to No. 1 on the French Digital Album chart and prompted a sold-out UK tour in 2009.
In 2010, she hit the road with Maroon 5, joining their North American tour before jumping on the UK leg of Pink's Carnival Tour.  She hit the stage with Jill Scott and Mary J. Blige for BET's Black Girls Rock.  She also made the television rounds on Ellen, The Late Show with David Letterman, Rachael Ray and Jimmy Kimmel Live! (among others) with her single, Shark In The Water, which eventually went gold in the US.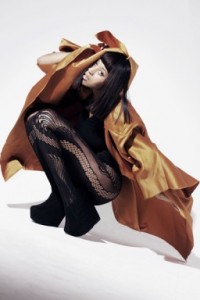 In November, she was featured on MTV's documentary series, World of Jenks, chronicling her break into the US.
market. She describes her style as alternative pop, with her cutesy delivery disguising the deeper underlying notes on modern-day society that permeate her lyrics.
There's something instantly cool about this soft-spoken import, who counts Q-Tip as a friend.  She has played at huge festivals like SXSW and Glastonbury, and toured two continents with major headliners, and still she's noticeably grounded.
A true artist in every aspect, VV casually references the amazing architecture of Chicago, or notes the beauty that can be found in the lines of a vintage jacket during a conversation about touring.  I like being creative. I love it from the core of my belly.  It's what I would be doing either way.  She seems to find the beauty in everything, and reflects it in her music, her personal style and her demeanor.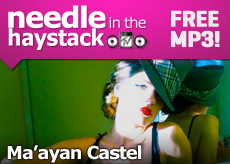 Troubled yet playful lyrics matched with fun upbeat reggae tones make for a delightful track in "Now I Don't". It's easy to see why Ma'ayan Castel was tapped to tour with VV Brown, since "Now I Don't" follows the same format of dejected lovers and foot-tapping tempos as Brown's hit "Shark In The Water". While not as energy-pumping as Brown, Castel fills the track with a delicate sexuality that would make even the most confident suitors think twice about leaving her behind. And when you look like she does, why would you even consider it?!
Check out Ma'ayan perform "Now I Don't" live in New York City, and download the taste-making track below.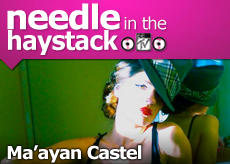 This week's Needle In The Haystack is a Boston beauty whose music can be categorized in everything from pop to neo-soul to world.  Ma'ayan Castel"a self-described introverted synth-tweeking-music geek"graduated from Boston's Berklee College of Music and co-writes all of her material. Her unique and powerful presence is a sight to be seen on stage, and has graced audiences while opening for VV Brown.
Now working with Bruce Lundvall of Blue Note Records on new material, Castel describes the collaboration as a reactionary mash-up of modern pop + culture  fusing indie-pop, reggae and psychodelic rock". It must be working, because "Now I Don't" was recently voted Number 4 best song of 2010 by BestNewBands.com. Check out the video below to learn about and listen to more of Ma'ayan Castel, and be sure to scoop a free download of "Now I Don't".
For fans of: Bjork, Annie Lenox, Fiona Apple, M.I.A.