Hell yes! Joe Satriani has come out with his first 3D theatrical concert film movie entitled – yep, you guessed it – Satchurated. By the way, how badass is that name? Filmed in Montreal, Canada during  2010's Wormhole Tour, this movie is finally making it to the big screen! Unfortunately, that big screen is in Australia and only for one night: Wednesday, March 7th. But don't be too sad, it'll be in stores soon…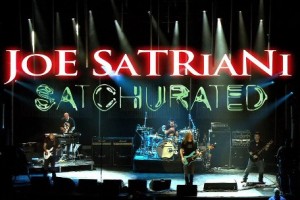 Directed by GRAMMY and EMMY award-winning filmmakers Pierre & Francois Lamoureux and produced by Cinemusica & Fogolabs, this movie is jam-packed full of the latest audio and video production standards – ten 2D and 3D cameras with 7.1 Dolby Digital sound. The brothers are recognized for having directed and produced concert films/documentaries for RUSH, The Who, Harry Connick, Jr., Slipknot, Rihanna, The Pretenders, Zappa Plays Zappa, Branford Marsalis, Cowboy Junkies, Collective Soul, Ben Harper, Willie Nelson, Deep Purple, The Stray Cats and others. So if you got a 3D TV, this is absolutely a recommended buy!
Satriani's "War" from Satchurated.
And if you happen to be in Australia…below are the 2012 G3 tour dates for that part of the world:
24 March ' Michael Fowler Centre, Wellington
25 March ' Logan Campbell Centre, Greenlane, Auckland
27 March ' Royal Theatre, Canberra
30 March ' Hordern Pavillion, Sydney
31 March ' Palais Theatre, Melbourne
3 April ' Festival Theatre, Adelaide
5 April ' Convention Centre, Brisbane
6 April ' Byron Bay Blues Festival, Byron Bay