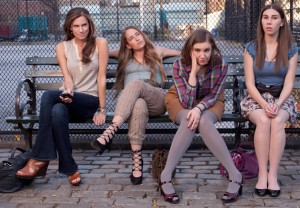 HBO's third season of Girls premiered last night, and with the new season will come a slew of new songs by Lily Allen, Jenny Lewis, and Miguel, along with a new Beck song that will debut prior to his upcoming album release.
"The Jenny Lewis [song] scores a very emotional moment that happens in the second episode," explains music supervisor Manish Raval, "where the case is reunited with Jessa. I love the song, I love the moment, I love the last image of that moment. I think that's my favorite spot of the season," he said. "This season, a big chunk of an episode is based around a Harry Nilsson song. It's something we haven't done before … we have an episode this season that has an artist covering a Warren Zevon song. There isn't anyone who we wouldn't use. I think that's the rule with this show; there should be no rules."
Catch the new tunes Sundays at 10pm on HBO.
More like this:
Beck Sued For Property Damage To ˜Inglourious Basterds' Actor's Mansion
Beck Covers John Lennon's Love
Beck's ˜Morning Phase' Track Listing

Pony Boy, the brainchild of Marchelle Bradanini, is a self-described "junkyard country" group that sounds like a dusty old Ford rumbling down a deserted road. Having already put in time as a member of the eclectic Bedtime for Toys, Bradanini channeled her rediscovered love of classic country, blues, and Americana into her latest project. We caught up with her to chat about her poetic past, her distaste for manicured pop, and what really separates her from R. Kelly.
OS: You've been involved in some eclectic musical projects in the past such as Bedtime for Toys or you DJing project Pony vs. Tiger. What got you interested in the aesthetic of your current band?
MB: I started out just as a girl with a guitar influenced by Johnny Cash and Bob Dylan. Then, I ended up starting a band with some friends and that was about playing music that a group of people came up with collectively at a different point in my life. When that band broke up, I was trying to figure out what I was doing next. Oftentimes you get asked to DJ after playing a show, and I had a pretty decent vinyl collection. While I was working out exactly what the solo project would be, I started getting asked to DJ all over the place. The nice thing was that those gigs were for people who wanted rock 'n' roll or classic country, and it was a great opportunity to go back and rediscover all of these old, great artists that I love: John Prine, The Allman Brothers, and even Ram Jam [laughs]. There's the electronic DJ scene, but then there are also people who want to hear actual songs that were initially released on vinyl. Getting into that scene was really great because I got to work on playlists all day. (more…)