"Lifestyles of the rich and the famous/ they're always complaining, always complaining/ If money is such a problem/ well they got mansions/ think we should rob them." – Joel Madden, singer, poet.
Oh Good Charlotte, wise beyond their years. What other band could so brilliantly lampoon the extravagance of popular music stars, satirizing it while subtly nodding to the allure of money, at once deriding lust for material things and acknowledging the avarice in all men.
One can wax poetic on the evils of money until the cows come home. It's the root of all evil, greed is a deadly sin, it can't buy you happiness, blah blah blah. Alright sure, money can't buy you happiness, but you know what it can buy you? A bitchin' new house! Hey, knock money all you want, but if you get a little bit of green then you can finance yourself a sweet little pad. That must be the thought-process behind the housing decisions that rock stars make. And who can blame them? You're young (or young-at-heart), successful with a regular infusion of cash and you probably fancy yourself the creative type. Why not have a sweet house that reflects all that about you and more? Let's take a look at some sweet rock star domiciles.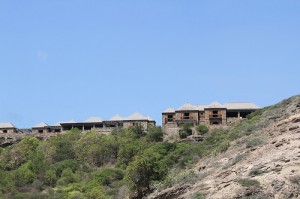 Eric Clapton
We can't profile all of the famous rock guitarist's homes, but one of them stands out not only for it's opulence but also for it's relative availability for the (fabulously wealthy) average Joe looking to rent a tropical getaway. Standfast Point in Antigua is less a house or mansion and more of a compound: a 14,000 square foot four building complex sitting atop seaside cliffs looking out over the Atlantic Ocean. With space for your family in the main house, separate accommodations for your guests, onsite staff and two pools on the property, the property truly does have it all"and it can be yours for the going rate of $50,000 a week. But can you really put a price on living in the lap of luxury in a house that could easily pass for a Bond villain hideout? You can learn more about the villa here.
Fat Mike (NOFX)
Frontman of long-running punk band NOFX Fat Mike wears many hats. As a performer in his group, he sings and plays bass. Day to day, he helps run Fat Wreck Chords, the seminal punk label that he founded along with his wife in 1990. And now Mike can add real estate mogul to his lengthy resume. Fat Mike has begun to rent out a house in Las Vegas known as the Vegas Punk House and Paltry Museum. Now, you probably won't see Fat Mike there, but his influence is all over the place. The living room is plastered with posters from classic punk shows of yore and the house features a number of amenities that will please the man-child in all of us. In addition to a salt water pool, the backyard also features a nine-hole mini golf course and a water slide. And you bring all your friends since the Punk House has bed space for ten people and is only four miles removed from the Vegas Strip. You can take a tour of the place with Fat Mike himself in the clip below.
Wayne Coyne (The Flaming Lips)
Coyne, weirdo shaman frontman of psychedelic rock band The Flaming Lips, needs a pad worthy of his outsized gonzo persona. And he does"his house is so weird it's even something of a celebrity in it's own right. "Wayne Coyne house" is the third hit that comes up when you begin to search for the rock star online. The most notable story about the humble abode is when the Internet freaked out after spotting Coyne's house in Google Maps street view. How could they tell it was Coyne's house, you might ask. Well, let's take a look at the evidence.
So, we've seen the outside of his house, but what about the inside? Well, it's a home worthy of Coyne's grand weirdness and it's pretty damn cool. Coyne and his wife worked closely in collaboration with Oklahoma City-based architecture firm Fitzsimmons Architects in order to transform the suburban home into something very unique. Also notable is the location Coyne chose for his home; in the middle of the same neighborhood that he grew up in. Coyne wanted to show his support for the community by placing his new home there. What a class act!