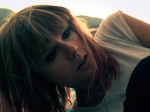 Just the other day, we promised you a Taylor Swift video that would catch the pop country sweetheart out of her element and exploring new terrain. Wednesday night, as part of their Big & Best of 2012 live stream, MTV aired a short clip of Swift's "I Knew You Were Trouble" music video.
The video is short, and in truth most of the 30-second clip is MTV advertising the music video premiere. However brief, the clip shows a confused Swift lying in the dirt, hair tousled and clothes ripped, while flashbacks of a party the night before flood the screen.
We had been told this video would document the more poisonous side of relationships and by the looks of it, Swift wasn't kidding.
"We knew we wanted it to be [about] some sort of corruption " good girl is living her life, going on about her life … and all of a sudden she runs into this force. This guy is just like a force," Swift said. "She'll do anything to fit into his world, including change about herself."
Check out the video right here and catch the premiere Dec. 13 at 4:40pm ET on MTV.
If you like Taylor Swift, check out OurStage artist Devin Belle.
More Like This: