Listening to good music that other people already know about is totally overrated nowadays. This week, OurStage's own hipster correspondent Kristin has built us a playlist that's more anti-mainstream than PBR and lens-less wayfarers. This playlist was developed around the supernatural hipster ability to discover great music before anyone else has the chance to hear it. By studying the hipster in its natural habitat, we can learn about how songs start to become trendy at the earliest stages, and predict what music is on the rise based on what hipsters are listening to currently. SoundTrax's Hold Me Closer Tiny Hipster features popular music that these groovy trendsetters were listening to months ago, before it was cool (of course) and songs they're listening to now that's sure to catch on to mainstream popularity soon enough. As an added bonus, there are also a few tracks that were previously overlooked by conformist popular culture that hipsters have attempted desperately to keep to themselves. Sorry for spilling the beans, hipsters.
Post up in a local coffee shop on your MacBook then work on your Avant-garde screenplay while listening to these awesome tunes by Lana Del Rey, Bronze Radio Return, We Were Lovers, Imagine Dragons, and many more.
More like this: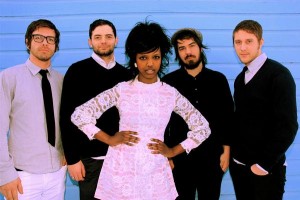 There was a time, not that long ago, when the pop world was infused with romantic ennui. This cavalcade of weary-hearted artists was led by the Smiths, whose woebegone tales of love and loathing gave a jolt to bummed-out youth in bedrooms across North America and Europe.
These days you can still find vestiges of that age in plenty of bands. We Were Lovers is one of many. And though their lovelorn indie rock has lots of pretty moments, for the most part it lays supine on the bed like a melancholy teen. The combination of meandering, unintelligible vocals and lo-fi production washes out whatever energy the arrangements give the music. Even bright guitar stabs and an unexpected horn section in Mirror, Mirror fail to fully lift the song out of its torpor. Singer Elsa Gebremichael is dreamy, fo sho, but her drowsy singing style is, well, tiring after awhile. In Birds of a Feather multitracked vocals give the effect of a chorus of Debbie Gibsons on Quaaludes.
However, all hope is not lost. In the darker C-C-Call You On, Gebremichael snarls her way through distorted guitars, adding a killer Blondie edge to the tune. Here's for waking up on the wrong side of the bed.

OurStage is launching a new feature that shares playlists created by both Fans and Artists on the site. "Now Playing" will feature playlists as well as information about the person responsible for the mix. OurStage Community Leader KB took the first crack in the DJ booth. Check out the haunting group of harmony-filled songs by some of her favorite OurStage artists.
About Me: I've worked in the music industry for 10+ years. I appreciate many genres of music but I'm particularly drawn to the softer sounds within indie rock as well as  loud, old school rock n' roll. Mostly I just love music and I find it exciting when I discover new talent. It's rewarding to see and hear potential, and to help emerging artists find their audience. Hopefully the people reading this blog will listen to my playlist and become supporters of the talented artists featured.
Favorite Artists: So many favorites! Here's a small sampling that stay in heavy rotation… Death Cab For Cutie, Silversun Pickups, PJ Harvey, State Radio, The Gossip, The Slip.
Favorite OurStage Artists: Not only do I enjoy the following artists music but I've seen them live and they are even better in person: Kate Tucker & The Sons of Sweden, Chris Pureka, Clarias, Big Bang TV.
If I were a rockstar for a day I'd be: PJ Harvey
Because… : She is one fierce badass. The woman is a talented vocalist, killer guitarist, prolific and influential songwriter, trendsetter and dynamic showman. PJ Harvey is a master of extremes within Rock"both a soft spoken muse and heart-wrenched lioness. Would love to walk in Paula Jean's high heels for a day.
–KB
Listen to KB's playlist featuring The Rescues, My First Tooth, We Were Lovers, Kate Tucker & The Sons Of Sweden, Her Girl Friday, I Fight Dragons, Other Lives and Chris Pureka.
Share your playlist! Go HERE to find out how!