Chaos ensued at a Webster Hall show by punk rock acts Cro-Mags, Sick of It All, and Vision of Disorder, though the physicality and violence involved was less of the moshing variety and more of the stabbing variety. Founding member and ex-bassist for Cro-Mags Harley Flanagan reportedly attacked two people at the show, resulting in his arrest and the cancellation of the concert. At least one of the people attacked by Flanagan is a current member of Cro-Mags. It may be the most punk thing that has ever happened.
According to eye witness accounts Flanagan was agitated prior to the altercation, with one fan noting that, "I talked to him outside minutes before it happened and I knew something was going to go down. He was like a lunatic outside…" Flanagan, an MMA enthusiast and a practitioner of Brazilian Jiu-Jitsu, at some point leapt from the dressing room area and proceeded to assault Cro-Mags members.
Two people, current Cro-Mags bassist Mike "The Gook" Couls and William Berario, were taken from the venue with non life-threatening injuries. Couls was reportedly stabbed in the stomach received cuts to the arm. Berario, whose connection to the band is unclear, sustained cuts above the eye and was also bitten by Flanagan on the cheek. Flanagan did not escape his attempted attack unscathed, having his leg broken while being detained by security. Flanagan also managed to flip off jeering onlookers as he was being escorted from the venue despite being handcuffed.
The band has issued a statement regarding the incident, stating that, "We as a band are truly sorry for the way it all turned out in every regard, even the ex-member whose family is now affected by his choices… Let's move on now & stop the trash-talking. Keep that PMA – that's what we are all about." Check out video of Cro-Mags frontman John Joseph addressing the crowd after the assault below.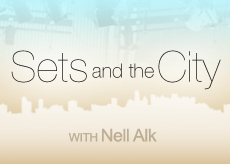 Baltimore-based dream-pop duo Beach House haunted Webster Hall's grand ballroom twice last week, playing sold out shows both Wednesday and Friday nights. Comprised of lead singer Victoria Legrand on keys and backup singer Alex Scally on electric guitar, the pair was joined by a third individual on drums (and tambo and maracas¦). Their atmospheric, lo-fi beats blanketed the space for just over an hour, some mesmerized balcony-dwellers balancing atop tables and chairs to get a better look at the stage and scene below.
Legrand, whose old soul voice (both speaking and singing) is breathy and androgynous (and not a little akin to, in my humble opinion, Stevie Nicks), wore what looked like an oversized mint-tinted blazer. Her messy locks long, at times her hair swept the keys as she bowed her head and wafted it to and fro. Even in the shadow-clad lighting, which consisted of absolute darkness between tracks, I could decipher Scally's shoeless feet, rockin' socks as he maneuvered pedals from his stool or stood to modestly dance, lurching forward sporadically while strumming.
Their otherworldly audible delivery was complimented by visual accompaniment: a trio of three-sided pyramids erected behind them, lit up in different colors depending on the song. Some songs warranted red, others purple, others yellow and so on. Some songs received special treatment"twinkling lights shone like stars on the backdrop, transporting the audience to a crystal clear night sky we're not apt to see from rooftops in NYC. I myself came to think of the props like neon, angular teepees, poised to launch into space at any moment. But, hey, that's just my trippy take.
Beach House performed numbers hailing largely from their most recent release, Teen Dream. Of the fifteen-strong set list, only five were plucked from former records. That said, even their newest isn't too new, having come out over a year ago. Then again, these WH engagements were one-offs, not part of a greater tour. We in New York should feel fortunate for the out-of-the-blue double-header, right?
Overall the show was low-key but eagerly enjoyed. By low-key I mean that their sound was solid; they aren't pulling out all the stops to impress with effects or distract from the matter at hand (though they did incorporate some strobing and WH provided the usual but tiresome steam machine). But, by and large, they aren't trying too hard. They're confident, cool, collected. I've not seen them in person previously, but my instinct is that the team is coming into their own, finding their voice and settling into a respectable but comfortable ease. They know their work well and they know their work rocks. Simple as that. Or so I gathered.
Their music was smashing, translating well from headphones to live venue. They took turns speaking between numbers, though they kept remarks short and sweet. Once in a while they attempted to be funny and fell flat, though before launching into my personal favorite tune, Lover of Mine, Scally indeed succeeded at commanding some laughs. Said he, We'll give a Vietnamese sandwich to anyone who dances during this song. This was met with ample applause and cheering. Legrand's left-field commentary about growing older and the Internet, however, you could have heard crickets. The crowd seemed similarly unmoved by her allusions to promiscuity; My memoir will be called Sleeping with Strangers. Picking up on lack of response, save for a few weak whistles, Legrand figuratively threw up her arms and said, Okay, wait. Let's get back to emotions. And the band played on.