Friday held performances from Grace Potter and the Nocturnals, Matt & Kim, Atmosphere, Ray LaMontagne and Florence and the Machine. Despite the temperatures peaking the mid-90's, My Morning Jacket's frontman Jim James took the stage for their 8:00 PM set wearing a black coat and giant pair of white fake-fur boots, topped off with a red and white scarf. The Louisville rock band has had some legendary moments at Bonnaroo over the years, like the apocalyptic storm set in 2004 and a three-hour marathon of a show late-night in 2008. MMJ filled their first big stage set with a range of epic rock jams and mellower, down south tunes. Cellist Ben Sollee joined for "Smokin From Shootin" and the band expressed their appreciation, saying " We've had our minds blown so many times at this festival, "and it's an honor to be with you tonight."
Headliners Arcade Fire continued their homage to suburban slums with a stage set up mirroring a drive-in theater, complete with previews (the trailer of 1979 teen-exploitation flick Over the Edge). The crowd danced to all the hits, including "We Used to Wait", "Ready to Start", "Month of May" and "All Cars Go". After the phenomenal balloon drop at Coachella during their encore of "Wake Up", the anticipation for something spectacular was thick. They gave "Wake Up" a break, introducing it into the encore as having been "written for rooms of twenty people".  While the party tricks were kept to a minimum, the ninety minute set was closed with "Sprawl II," one of The Suburbs grooviest tracks, made for open air.
At 1:30 AM it was time to get gangster with a zebra pants and backpack clad Lil Wayne, who thanked fans for sticking by him. What started strong got a little weird in the middle when the set slowed down in order to plug some friends o' Weezy. Still, I have never seen to many white kids get down, so a good time was had by all.
An hour later, Centerroo was just as packed as it had been at 6:00 PM, and people buzzed from tent to tent checking out LATE late night sets courtesy of Pretty Lights ("awesome") Ratatat ("too crowded") and Shpongle, a light show extravaganza who's name had been on everyone's tongue (presumably because of the name) but no one seemed to know anything about.
Saturday started out with some attitude as we went to cheer on OurStage artist Lelia Broussard as she competed for the cover of Rolling Stone. Decked out in face paint, she rocked songs about hipster bitches and sad robots to a slew of fans who showed their support with their own face paint.
Chiddy Bang took the stage just as the sun really started beating down. The Guinness World Record holders (for longest freestyle rap"over nine hours!) took freestyle suggestions from the audience and closed with the anthemic "Opposite of Adults". Alison Krauss' soothing voice brought some relief to a crowd relaxing on the lawn in the afternoon. Together with her bluegrass band Union Station, she lulled fans with songs Restless and Miles to Go, off the band's 2011 Paper Airplane.
Portugal, the Man, Amos Lee and Wiz Khalifa brought the hip quotient to the afternoon, with one Wiz goer overheard saying that it was the best set so far. Current girlfriend(and Kanye ex) Amber Rose looked on from the side of the stage as he performed tracks like "B.A.R.," "Cabin Fever," "The Race," "Wake Up," "In the Cut," with eyes past the point of glassy.
Mumford and Sons stole the show Saturday afternoon, making the leap from afternoon tent to evening stage since last year. There are so many more of you than there were last year keyboardist Ben Lovett told the swelling crowd, which included Ron Jeremy, Zach Braff and American Idol cast-off David Archuletta"a very real truth when taking into account the fifty or so fans in attendance just last summer. Mumford performed all the hits off 2009's triumphant Sigh No More, but also introduced three new songs inspired in part by Tennessee itself, and promised their new album would be done by year's end. Joined by members of Old Crow Medicine Show (who Mumford joined onstage for their finale hours earlier) Harris and Jerry Douglas, the group encored with "Amazing Grace". The stage resembled a back yard hill billy party as the Sons belted out all too relevant lyrics about being "found".
Tens of thousands of fans packed into the main stage for what would turn into one of the most memorable performances of the weekend. While The Black Keys put on a set comprised mostly of last year's breakout Brothers, Daniel Kolitz (Prefix magazine) remarked "Bonnaroo could have easily been 1968: their proudly analog jams make almost no concessions to the last thirty years of music. Described as "super sized and stunning" it was the perfect music to watch the sun set to.
Eminem took the stage for his first performance of the year in support of Recovery, but catered to his fans by playing tons of hits from years past including "Stan" and "The Real Slim Shady". His performance was purely triumphant, pounding energy into the stage with determination and grit, proving that he does in fact have the steel to perform in a festival setting. Encoring with the mega hit "Lose Yourself", Em humbly thanked his fans before walking off. Everybody here tonight, he said, I just wanna say thank you for sticking by me and not giving up on me.
Late night dancing entertainment was provided by New York rockers Scissor Sisters, jam staples String Cheese Incident, DJ Girl Talk and traveling gypsies Gogol Bordello. Fans poured themselves into their tents well after the sun came up.
By Sunday the sheer exhaustion and reality of returning to real life set in. It was a day for chilling out with acts like Iron and Wine and Gregg Allman. Cold War Kids took the stage at 5:00 PM and those thousands that were lucky enough to make it under the tent welcomed both the shade and a set list made up of the very best CWK has to offer including oldies "We Used To Vacation" and "Hospital Beds" and tracks "Royal Blue" "Louder Than Ever" and "Skip The Charade" off their latest Mine Is Yours . The LA rockers closed the set with a moving cover of CCR's "Long As I Can See The Light", then finished it all over with a very fitting "Goodnight Tennessee" and "St. John".
Robert Plant & Band of Joy provided the soundtrack to Sunday's sunset as fans milled about on the lawn of the main stage sipping lemonades and swaying to a folksy cover of Led Zeppelin's "Black Dog". Patty Griffin sang some perfect harmonies to Plant as they got in touch with their Americana roots.  "Aside from two of us, we're all from 40 miles of here, so [Bonnaroo's] an easy gig really."
The Strokes simply dominated Sunday with a stripped-back set. While this is not the band to personalize individual performances, the setting at Bonnaroo did provide a few moments that will be hard pressed to be recreated"such as Julian Casablancas wailing into the mic fully clad in black leather despite the 90 degree weather,  Albert Hammond Jr.'s haircut, and new material Under Cover of Darkness and Taken for a Fool". Classics like Last Nite, Reptilia, Hard to Explain and Take It or Leave It stayed faithful to their original studio cuts and were sang at full throttle by an audience thousands deep.
By Sunday evening we guessed that almost half of the 85+ thousand people had already departed. Eminem had brought a younger crowd to Bonnaroo this year, fans that may not have been so familiar with or interested in the festival's tradition of closing with a jam band"this year being Widespread Panic. Those brave souls remaining took opportunity to relax during the last of the weekend's live music and wander back to camp at a reasonably normal hour. Til next time….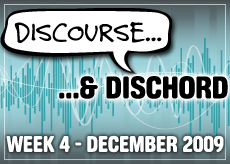 The Good
Van Morrison adds another to his brood (not a brown-eyed girl)
It's true "Van Morrison is still alive and actually quite virile. This week the reclusive, 64-year-old singer became a father for the fourth time when his manager/partner Gigi Lee gave birth to a son, who the couple named George Ivan Morrison III.
New Missy Elliot Track leaked
Speaking of reclusive, Missy Elliott has been keeping a low-profile of late, finishing up work on her long-anticipated album, Block Party. The hip-hoptrix joined forced with Lil Wayne on the track All 4 U, which leaked unfinished onto the interwebs this week.  Check out the rough mix here.
The Bad
Vic Chesnutt dies on Christmas Day
Athens, Georgia singer-songwriter Vic Chestnutt died on December 25th following an apparent overdose of prescription muscle relaxers. Confined to a wheelchair since his teens, Chestnutt struggled with depression for much of his life, but remained a prolific musician. In 2009 he released two albums, At The Cut and Skitter On Take Off and collaborated with several artists, from Widespread Panic to Sparklehorse.
Avenged Sevenfold drummer dies
Not to crush your spirits even further, but the music world suffered another loss on Monday when Avenged Sevenfold drummer James Owen Sullivan, a.k.a. The Rev, passed away in his home in Southern California. Local authorities say Sullivan appears to have died of natural causes, but his death is still under investigation.
The Ugly
Lil Wayne heads to the clink with a bang
Lil Wayne (born Dwayne Carter) will likely be spending a year behind bars for his conviction on a weapons possession charge in October. But, he's not going softly into that good night. This Monday the rapper performed in his hometown of New Orleans to a crowd of thousands as part of his self-described farewell tour. Lil Wayne's next album, Rebirth, is due for release Feb. 1. After New Orleans, he is scheduled to perform in Lafayette, Texas, Arkansas and Mississippi before being sentenced in February. We bet a milli they won't let him bring his auto-tuner to prison.
Miscellany