Last Friday was a perfect summer night and thus the best evening atmosphere anyone could imagine for a concert. The Bank of America Pavilion was packed with people of all ages who were treated to a night of great music while watching the sun go down over the water. It was the end of the first week of the Guster and Jack's Mannequin co-headlining tour and this show was certainly full of special moments and surprises.
Ra Ra Riot kicked off the show as concertgoers were filing into the venue, many intrigued and entertained by the opening act. An indie pop band hailing from New York, the group set the tone for the rest of the show, putting everyone in a good mood with their laid-back but fun music. One of the highlights of their set was their performance of "Too Dramatic", which showed off the band's use of violin and cello in their songs.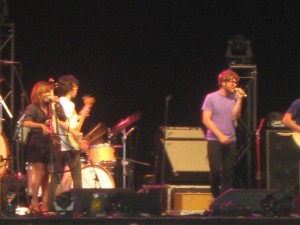 By the time Jack's Mannequin took the stage, the crowd was full and on their feet in anticipation. Exactly a year after front man Andrew McMahon was in town playing a Something Corporate reunion show, he was back with his current band, on the verge of releasing their third album. They started off by getting everyone dancing and singing along to their biggest hit to date, "The Mixed Tape". The band treated the crowd to three new songs from their upcoming album People & Things, including one called "Amelia Jean" which they had never played before. Their performance of "Bruised" kept the crowd going halfway through the set and emphasized the great dynamic between Andrew and the backup vocals of guitar player Bobby Anderson who provides beautiful harmonies. Ending the set after getting to play for over an hour, they chose to play their catchy sing-a-long tune, "La La Lie". McMahon showed off his harmonica playing skills to the delight of the audience, and jumped off of his piano onto the stage like a rock star.