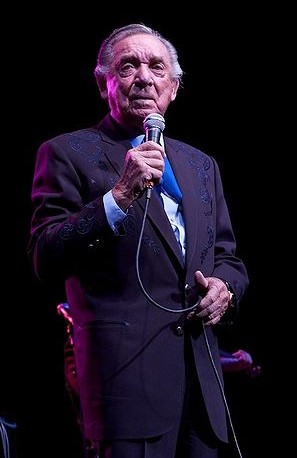 Ray Price, star of the 1950s honky tonk music boom, has passed away from pancreatic cancer, a family spokesperson has confirmed.
As one of country music's early stars, Price helped transition the genre from hillbilly and cowboy music to the more danceable honky tonk variety, and set the stage for the rockabilly and outlaw country waves to come in the '60s and '70s. His band, the Cherokee Cowboys, included (at one time or another) future stars Roger Miller, Willie Nelson, Buddy Emmons, and Johnny Paycheck. Price had a number of hit singles in the '50s and through the '60s (when he transitioned to the more commercial "Nashville sound"), and was the first artist to have a hit with "Release Me" (later a worldwide smash for Engelbert Humperdinck).
Price continued to tour and perform until his illness in 2012, releasing Last of the Breed, with Nelson and Merle Haggard, in 2007.
Enjoy some classic honky tonk and bid farewell to Ray Price.
More like this:
Country Legend George Jones Hospitalized
Your Country's Right Here: The Randy Rogers Band Talk ACMs, Texas Music, And Willie Nelson
Honky Tonks Where Country Learned To Stomp