For all the heavy-duty bluegrass star power at the most recent DelFest in Cumberland, Md., it was the Canadian folk duo Madison Violet that arguably was the most exciting "find" of the event.
Known individually as Brenley MacEachern and Lisa MacIsaac, the duo has won an array of awards and has ardent fans throughout their native Canada, in Europe, and beyond. Yet the two are just now making a name for themselves in the U.S. An unexpected illness forced the duo to cancel the last two dates of the U.S. tour behind their latest album The Good in Goodbye, but the pair hope to be back in American clubs soon.
"We haven't toured in the U.S. very often in the 13 years we have been playing together," said MacEachern citing work permits and other red tape that has kept them away. "Now we have more of a focus on the States and that's great. Our music shouldn't be a struggle in the States; it's kind of got an Americana feel."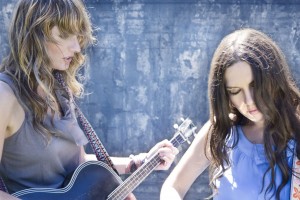 Although that's true, the music clearly also has international appeal as underscored by the many fans" especially from Germany"that fly to Canada, the U.S. and elsewhere, to catch Madison Violet shows. Perhaps that's not surprising when you consider the judges, including Elton John, Wyclef Jean and Mary J. Blige, that chose Madison Violet as the 2009 Grand Prize Winners of the John Lennon Songwriting Contest. The duo are the first Canadians to win the award.
While the prize certainly bolstered the group's confidence in their own abilities, they still see a long road ahead as they work to establish their names in the States. The joy for them is that fans are fans and seem to have similar responses to their music, wherever they play. If they can just get before a crowd, as they did on Memorial Day weekend at DelFest, chances are they'll win converts.