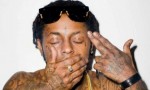 If you're under thirty and a fan of hip hop it's probably hard to remember a time when Lil Wayne was not present in the music industry. Diehard followers will recall the rapper's rise from a child with a dream, to a teen on MTV, to a young man no one could stop, and news from a new interview seems to say we'll soon see that man hang up his crown atop the rap game.
Speaking with MTV recently, Wayne sent shivers through his fanbase worldwide with the following quote:
I know y'all want me around for a little bit, and Carter V is my last album. Man, I've been rapping since I was 8 years old. I'm 30 now, man. That's a long time, man.
While the idea of Wayne's departure will likely hit many as a shock, it's been clear from a critical standpoint that his artistic desires have journeyed away from the game in recent years. September's Dedication 4 was hailed as a return-to-form for Wayne, but I dare you to find anyone still blasting it on the regular two months later. The fire has begun to fade and Wayne recognizes this. He even hinted at this in the same interview, stating:
"I signed my contract at 11, I went platinum at 14. I'm 30 now. Thank God I haven't put out an album that hasn't went platinum. To just keep it going like that, I think not only am I being greedy, I'm fooling myself to think that it will continue to be that great."
As it stands, Wayne is set to release I Am Not A Human Being Part 2 on February 18. Carter V does not currently have a release date, but it wouldn't surprise us if the record hit shelves before this time next year. Until then, we'll have to wait and see if Wayne sticks to his retirement plans. If anything changes, we'll let you know.
If you enjoy Lil Wayne, be sure to check out OS artist Jitta On The Track.
More like this:
Download Jitta On The Track's 'Alphabet Soup' Mixtape