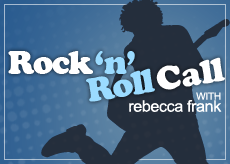 In an age where many rock bands buy into trends and disappear into the crowd, New Jersey's My Chemical Romance have always pushed the envelope and dared to stand out. Each of the band's releases have been built on a strong vision, and the band has reinvented themselves time and time again, both musically and aesthetically. Garnering a massive legion of fans known as the MCRmy, My Chem have been the go-to band for dark lyrics, gothic makeup and screaming vocals since their 2002 debut, I Brought You My Bullets, You Brought Me Your Love.
That is…until now. True to form, My Chem have evolved yet again on their eagerly-anticipated fourth studio album, Danger Days: The True Lives of the Fabulous Killjoys. A band who is theatrical as their music, My Chem literally become a different band with each album.
Leaving behind their marching band uniforms from their days as Italian rock group The Black Parade in 2006, the band have now emerged as the Killjoys. Led by frontman/mastermind Gerard Way, the band are ray gun-wielding outlaws from the year 2019 (who aren't afraid to wear a little color). The Killjoys are fighting against Better Living Industries, the Big Brother organization that is keeping their hometown"Battery City"bland, boring and under control. But the Killjoys, who individually call themselves Party Poison (Way), Kobra Kid (bassist Mikey Way), Fun Ghoul (guitarist Frank Iero) and Jet Star (guitarist Ray Toro), are on a mission: to rebel via a raucous rock 'n' roll dance party.
Like a comic book come to life, the record opens with a welcome into the world of The Killjoys by radio host Dr. Death Defying, who slyly demands, "Look alive, Sunshine." His introduction fades into the beginning of "Na Na Na," the first single released off the album. Once you get over the initial shock of how jarringly different it is from anything else in the band's discography, you'll be singing along to this hard, fast and celebratory track.
"Bulletproof Heart" follows, with shimmering spacey sounds leading into another synth-laced, riff-laden rock tune. On the next single "Sing," Way urges us to "use your voice every single time you open up your mouth/sing it for the boys, sing it for the girls/every time that you lose it, sing it for the world." The track remains relatively subdued until the band jacks up the energy with a driving and well-rhymed bridge.
Any long-time fan of My Chem might cringe at the idea of a disco song, but "Planetary (GO!)" will calm the fears of any skeptics. This dance-worthy party anthem leads into "The Only Hope For Me Is You," the chorus of which draws an easy comparison to an arena sing-a-long from 30 Seconds to Mars. "Party Poison" picks up where "Planetary (GO!)" left off, with Way yelping, "This ain't a party, get off the dance floor/You want the letdown, here comes the gang war." Fans of The Black Parade will love "Save Yourself, I'll Hold Them Back," a charging rocker that finally makes room for some of Toro's signature soloing. "S/C/A/R/E/C/R/O/W" is a toned-down retro ballad, while "Summertime" is probably the closest the band has ever been to a love song.
But don't get too comfortable, because next is "Destroya," the hardest track on the album thus far. In between moans and yelps, Way screams "You don't believe in God/I don't believe in luck/They don't believe in us/But I believe we're the enemy!"
Things calm down on the synth-heavy track "The Kids From Yesterday," right before Dr. Death signs off the air the old fashioned way"by playing out a full orchestral version of the American national anthem.
Just as you think this high-intensity joyride might be coming to an end, the band pulls out all the stops with "Vampire Money," a song about their refusal to write a song for the Twilight soundtrack. It's undoubtedly the most energetic song on the record, complete with claps, crashing drums and Toro's most impressive guitar solo to date.
From the very first track of Danger Days, you'll realize that My Chemical Romance have evolved into a band unlike any other, even themselves. The record still contains metaphors and sci-fi imagery, but Way has written some of the most direct and literal lyrics of his career. Unlike Three Cheers for Sweet Revenge and The Black Parade,  Danger Days is not a concept album. Instead, it's a punk rock free-for-all that allows the band to cut loose musically and metaphorically, freeing themselves of any labels that have been slapped on them in the past. And though this is their poppiest record to date, My Chem still maintain all the aggression, passion and confidence of all of their previous work. No matter what direction they choose to go in or what costume they choose to wear, they somehow always sound like MCR. In always keeping a fresh new sound and look, they keep audiences intrigued, excited and curious about what band they'll become next.
Killjoys, make some noise! Check out the official video for "Na Na Na" below and pick up Danger Days: The True Lives of the Fabulous Killjoys now in stores and on iTunes!