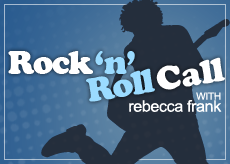 Don't be surprised if Portland, Oregon's Throwback Suburbia instantly remind you of Death Cab for Cutie or The Shins. After all, their album was created with the help of the same legendary producers who worked with both bands, plus John Lennon, The Who and David Bowie among others.
Though this roster is certainly impressive, Throwback Suburbia are well on their way to great achievements themselves. Their 2007 single "Circles" earned regular rotation on LA's KROQ radio station and became the most played song by an unsigned artist on several other national stations. They also landed television spots on Fox and FuelTV and were named Eastwood Guitars' favorite new act.
It's always nice to have a breath of fresh air in the pop-rock scene, even when the sound is, well, a throwback. This power pop quintet boast some retro '60s charm in their clean and simple song structures, perfectly timed harmonies and complimentary keyboard parts. The sweet and sugary "Head Over Heels" will definitely get you dancing, as the piano, bells and vocals make this feel-good tune a stand-out track. Soft-rock ballad "You'll Never Know" could easily be a Beatles song. The track is surprisingly hopeful as vocalist Jimi Evans sings, "Clear those cobwebs inside/Don't wait for tomorrow/You'll never know 'til you try."
After spending 23 weeks in the Top 100 on our Best of Pop Charts and sharing the stage with Rooney and The Gin Blossoms, Throwback Suburbia are on the fast track to hitting it big. Be sure to check out their latest album, Throwback Suburbia, on their official Web site!