Sara Watkins may be best known for her brilliant fiddle work with Nickel Creek, but expect that to change as more critics and fans hear her extraordinary solo release Sun Midnight Sun. Clearly, the fiddle virtuoso is a solo artist with whom to be reckoned.
Watkins credits her time touring with The Decemberists for revving up her creative juices, resulting in the lush 10-track Americana album. Guests include Jackson Brown and Fiona Apple, and songs range from the Everly Brothers' "You're the One I Love," and Willie Nelson's "I'm a Memory," to iconic songwriter Dan Wilson's "If It Pleases You." But make no mistake, Sun Midnight Sun is all Watkins. Not only did she write or co-write the other songs on the album, but the guests and even the cover songs emerge simply as accents to her own unique songwriting.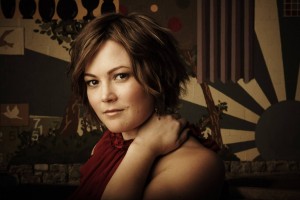 "I really couldn't point to my finger at any one thing," said Watkins when asked how she honed her songwriting skills, which she's criticized in the past. "Everyone hopes to get better at their craft and the way to do it is to write, and a lot has to do with listening to other people's music and admiring their work and trying to get that to rub off on you in some way."
Watkins credits co-producer and songwriting partner Blake Mills, formerly of Dawes, with providing support as she balanced her music between Nickel Creek's bluegrass roots and a bit more rock sensibility.