Zac Brown Band's newest single""No Hurry""seems perfectly suited for the band. When I spoke to Zac and his closer-than-family band mates  the year before the band"in the musical vernacular""blew up" after the release of the 2008 album The Foundation, lack of time with fans was their biggest worry.
That's understandable when you consider the band is comprised of friends that think of each other"and their followers"as family. Just a few years ago, Zac was immersed in trying to develop a way to change that dynamic. Sure enough, he and his musical family developed the now famous "Eat & Greet" concept that allows fans to mingle with the band as well as enjoy the show.
The idea is really an extension of the band's earliest days, playing as the house band for Zac's Place, the restaurant Brown and his dad ran not far from Atlanta. The bottom line: Think of the Zac Brown Band as country's version of Grateful Dead or maybe Fairport Convention and other bands that never met a stranger.
John Driskell Hopkins, producer, engineer and bass player for the band, took some time out of his busy schedule to talk with OurStage about just where the band is now and where it's going.
OS: Wow, what a few years you've had!
JDH: We can't believe all the things we have to celebrate!
OS: It's funny because when you guys started out, it seemed you didn't want to be classified as "country" and now you've been embraced in that format.
JDH: It's not that we didn't want to be considered country. We've been embraced by the country community and we're very pleased. It's just that we are a little too schizonphrenic to be under one name, in our minds. There are many facets of our musical influences. We all love different styles of music but it really seems what we do works great on country music and country fans like it. We're glad to have that. We are all a product of all our influences, mostly southern rock. We are all country boys from the south in one way or another.
OS: So how did you, as a country boy, get into music?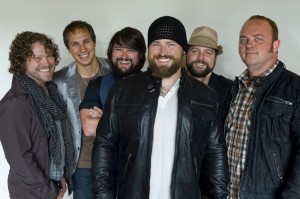 JDH: I was always a singer in the choir. We have videos of me singing at the age of three. I think the first time I ever really considered a musical instrument was in the fifth grade, when I was taking piano. Then I got my dad's guitar out from under the bed and taught myself how to play that. I got a bass soon after that.
OS: I know you started writing songs when you were really young and you were already playing. Is that how you got to work with Zac?
JDH: I got into producing in the early to mid 1990s. Zac and I produced his [first albums including the 2005 album Home Grown and then I joined the band.
OS: It seems like you do everything in the band, but everyone else does too!
JDH: I remember hearing a story about the first time [Garth Brooks] went on tour. He showed up at 7 a.m. with tool belt and drill [ready to build the set]. He still probably shows up at 7 a.m. with a drill in hand! We have that kind of mentality. We don't necessarily go that far but we always have done all we could ourselves. It wasn't that long ago that we were taking our own sound system [to gigs]. Until recently, the [public address] system we used belonged to me.
OS: It seems like you're always working, even when you're home.
JDH: It's funny, people believe I just come home and lounge and that's not what I do. Recently, I was in Nashville for a couple days writing with the guys up there. My wife works, too, and over the weekend I try to be with her.  But during the week I'm in my studio working. I did have a day to ride motorcycles with friends of mine, but I don't have every day to do that.
OS: You and Zac are very involved in the record label you all started, Southern Ground, too. I know one of your brightest stars in Sonia Leigh. Why was she the first artist you signed to the label?
JDH: I don't want to compare her with other artists but what she brings"and here's what some artists don't bring"is that she writes and she is an incredible writer plus a great singer and an accomplished instrumentalist. She is an outstanding writer and paints incredible pictures [with her music]. She deserves every bit of recognition she gets. She has really earned what is coming her way. We couldn't be prouder of her.
Find out more about the Zac Brown Band, Sonia Leigh and more at the band's Web site.