As we've noted previously, the music press"both print and online"is so overloaded with year-end best-of lists that it almost seems more worthwhile to come up with a worst-of list, just for the sake of doing something different. But the actual process of putting together a diligently researched tally of 2011's most actively unpleasant albums would entail more pain than we're willing to bear. So instead, here's a list of top 2011 releases that you won't wind up seeing duplicated in every other blog, magazine or newspaper you come across this month. These are the outliers, the undergrounders, the cult heroes and the musical mavericks who follow a path pointed towards aesthetic accomplishment rather than lowest-common-denominator appeal. Consider this a public service, filling you in on some of the subtler sonic pleasures you've been missing out on over the last dozen months.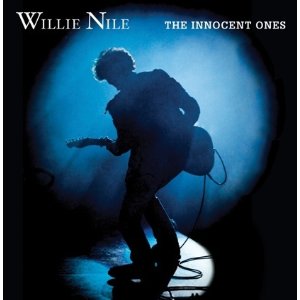 Willie Nile – The Innocent Ones
This New York rocker counts Bruce Springsteen and Bono among his admirers, but he's more about doggedly pursuing his vision through passionate live performances and DIY album releases than achieving arena-rock status. He's come within a hair's breadth of fame more than once over the course of his career, but stardom might have clouded the kind of rock & roll resolve that makes The Innocent Ones' mix of lyrical folk-rock and hard-hitting, hook-heavy power-pop possible.

At its core, Zechs Marquise is about exploration. Specifically outer space exploration. As previously detailed in the 8/24 edition of Riffs, Rants, & Rumors, the band has close familial ties with the progressive rock band The Mars Volta"they even share a keyboardist. However, with the recent release of their latest work Getting Paid, the band demonstrates that they have taken steps towards creating a real sonic separation from any musical comparison to TMV or any other band out there. Bassist Marfred Rodriquez-Lopez stopped by to give us an idea of how Zechs Marquise manages to separate themselves from their peers, what influences the band musically, and the story behind supporting the last tour of one of their longtime friends, RX Bandits.
OS: When the band first started it was called Monolith. What was the reason to change the name besides the obvious reference to Gundam?
MR: (laughs) It is mainly because we realized there was something like three or four bands with the name Monolith from Texas. It's funny, because they were from each of the major cities. There was one based out of Dallas, one based out of Austin, one out of Houston and another one out of San Antonio. So that was the main reason. We all loved the name, but then we were like Oh man, there's another band with that name? And they're from Texas as well?
OS: Were you were just chilling out, watching some episodes of Gundam Wing and just decided to go with that or…
MR: Well, we'd been watching it since I was a kid. And around that time, they had recently re-released them to DVD. So, I was watching some of the episodes at home one day before rehearsal and one of the things we all went home with the day before was Alright, let's come up with a new name. Just because I had Gundam Wing fresh in my brain, we were all sitting around and I was like What about Zechs Marquise? I kind of actually threw it out there as a joke, because my brother and I were watching it earlier. I kind of laugh about it now, because everyone was like You know, I kind of like that. So we kept it. You know, he's one of the cooler characters in the TV show. He's the bad guy at first and then he's a good guy and then goes back to being a bad guy. It all depends on what your view of good and bad is. (more…)

It's hard to believe it all started with a '90s post-hardcore band. Admittedly, At The Drive-In was one of the weirder exponents of that style, but still, even given the relative eccentricity of the El Paso band's output, it would have been pretty damn tough to prognosticate what would come in their wake simply by analyzing their discography. Of course, as any halfway-serious follower of either band knows, At The Drive-In gave birth to The Mars Volta around the turn of the century, as ATDI's singer Cedric Bixler-Zavala and guitarist Omar Rodriguez-Lopez defected to follow their own quirky vision.
Soon, Bixler-Zavala and Rodriguez-Lopez were turning heads with their new band, blasting out an in-your-face amalgam of progressive rock, fusion and hard rock that would eventually earn them a GRAMMY and a Gold record. Since then, the tireless Rodriguez-Lopez has also unleashed a whirlwind of extracurricular projects that would make even Robert Pollard seem unproductive, including a sideline as a ridiculously prolific solo artist. But there's a Mars Volta offshoot that boasts one MV member and at least two Rodriguez-Lopezes but does not contain Omar. Confused? It'll all become clear as we dig into the details of the Zechs Marquise story.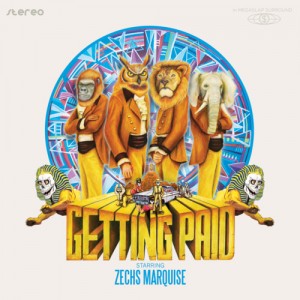 Zechs Marquise was formed in 2003, releasing a live recording in '06 and their first studio album three years later. Their latest, Getting Paid, is a bold sonic statement from a band that includes Mars Volta percussionist/keyboardist Marcel Rodriguez-Lopez and bassist Manfred Rodriguez-Lopez, both Omar's brothers. Since the making of the album, yet another sibling, keyboardist Rikardo, has apparently come on board as well. It will probably not come as a huge shock to anyone that Getting Paid inhabits a similar stylistic universe to that of the "big brother" band, and in turn, Omar's solo work.