Carly Rae Jepsen is in luck. It looks like she won't have to ensure the continuation of her celebrity run after Call Me Maybe falls from its current summit by relying on the hoopla generated by her own Nipplegate"nude photos that ended up being someone else's.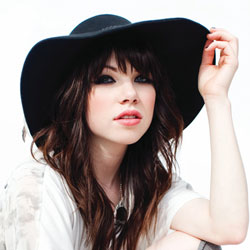 Thanks to a call from Adam Young, the one-man band behind Owl City, Jepsen is about to relight the fire under her rising star the old-fashioned way: with a new hit. "Good Time," her duet with Owl City, just debuted at No. 18 on Billboard's Hot 100, which means that her breakout No. 1 single won't forever be alone on her hit list.
It's pop symbiosis at its most effective: He saves her from that pop purgatory known as one-hit wonderdom, where he had been languishing since 2009, when the Owl City single "Fireflies" hit No. 1 on the Hot 100, and she helps get him out of it. Sure Katy Perry could have accomplished the same thing in the middle of a dead sleep, but that hardly would have been a meeting of near-equals.

Foster the People just might be the pop anomaly of 2011.
The trio of Los Angeles-based twentysomethings led by founder and namesake Mark Foster looks like a boy band (only cuter), plays instruments like rockers and produces music with beats that thump as hard as any backing up those fierce divas currently ruling every dance floor in clubland. And then there's FTP's breakthrough single, an insanely catchy song called "Pumped Up Kicks" about cool shoes and a youth with homicidal tendencies.
I mean, really?
Even more surprising than the song's smash status despite its decidedly un-poppy protagonist"that troubled kid contemplating a shooting spree"is the fact that it's created barely a ripple of controversy throughout its lengthy chart run. Did the clever lyrics fly over the heads of the country's guardians of morality and decency in songwriting? Were we all just too lost in the beat to notice the finger on the trigger?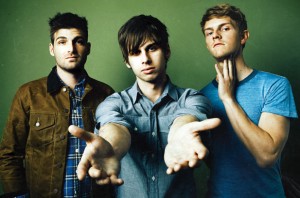 Or perhaps for the first time since the second British invasion of the 1980s brought such alternative pop acts as Duran Duran,
Depeche Mode and indie-pop pioneers the Smiths into and around the mainstream, both the masses and the pop-music establishment (radio and retail) are ready to support music that touches on more complex subject matters than "dance music sex romance""to quote a track on pop iconoclast supreme Prince's 1982 album, 1999, one of the records that launched the censorship wars of the early '80s that would hardly raise an eyebrow today.)