BACKTRACKING FORWARD: WANTED ON WAX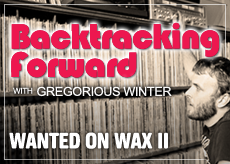 In my ideal world, everyone would have access to a vinyl press in their own backyard. Cutting discs would be as easy as ripping a CD. Until this happens, I will be digging each month in the OurStage archives to bestow three artists upon you whose music I would love to hear on vinyl.
SIX STRINGS AND A PIECE OF WOOD
It's a pleasure to discover new music that does more than aurally satisfy. Listening to music that summons emotions, paints exquisite landscapes and speaks louder than words without uttering a single one is truly an uplifting experience. Radomir Vasiljevic and Goran Kulic, two accomplished musicians hailing from the former Yugoslavia who capture this essence under the moniker Six Strings and a Piece of Wood, compose truly captivating songs that are drawn from the deep recesses of creativity and inspiration. They piece together intricate compositions that revolve around the beauty of the guitar with the occasional addition of the accordion and violin.
Chardaq, with its soft, dreamy melody evokes a carefree feeling of walking on clouds as the world revolves below. Tracks like Paralamera and Salsalata, which stir up a more flamenco and salsa flair, showcase a stronger, danceable rhythm as one is whisked away to a sun drenched beach where music never ceases playing. These songs, along with the rest of the catalog, conjure such profound and distinct images in the listener's mental cavities and represent creation of music that is meant to be experienced and not simply heard.
Critics have long claimed that jazz is dead. Looking back, the genre has never really been able to return to the heights it achieved in the late 1950s and 1960s, although countless musicians have been flying under the radar for years since then recording brilliant, yet commercially overlooked, music. But when a cat like Justin Hellman starts plucking away at an upright bass while the cool and collected vibes of Eric Vogler compliment him on the guitar, the ensuing sound crushes criticism of jazz music's supposed death. The quartet represented on his current recordings excel at layering their respective instruments in a flawless pattern, where neither outshines one another"yet they all showcase their talents effortlessly. Hellman stands out for commandeering his upright bass to create a deep, resonant sound while the nature of his tracks run a straightforward gamut of clean and crisp compositions that maintain a consistent groove. Although the recordings represented online are digital mp3s (an audiophile's nightmare), they are extremely well produced and mastered, making the decision of pressing a 180 gram LP a natural step for Hellman.
Similar to the nature of jazz musicians from decades prior, Hellman plays with and performs in various ensembles. His current project featured here consists of a semi-rotating lineup of talented musicians who all add a unique perspective and skill set to the songs. Check out his other endeavors, Sugar Shack and Plum Crazy, on OurStage for Hellman's explorations into more groove-oriented sounds.
Delta Highway embodies what I love about blues music so much. Having been a fan of the genre for many years, I crave the raw, gritty and traditional notes that gave birth to that sound. My upbringing on 1960s culture and music, on the other hand, made my ears keen to all the young musicians like Mike Bloomfield and Paul Butterfield"who helped shape and recreate the genre by injecting it with a new life. Similar to the current state of jazz in today's market, blues has waned in popularity, but Delta Highway and front man Brandon Santini's expressive harmonica hooks prove that the amount of talent still brewing in this genre is quite strong. Every track represented on their OurStage profile shows this combo at their best, laying down hard rhythms that give a nod to the past and inject a burst of contemporary edge courtesy of an experienced troupe of musicians. We Got a Thing Goin' On and 23 Hours, being two stellar examples of the group's musical prowess, truly show the group playing their hearts out.
Delta Highway's music is meant to be heard live where one can ingest a heavy dose of raucous talent on stage. But for the songs that invoke the spirit of dirty and traditional blues progressions, like the soulful track Feelin' Bad, put on some headphones, grab yourself a smoke and pour a drink as you turn up the stereo for an optimal listening session.
Keep Digging!