COUNTRY CATCH: BRANAN LOGAN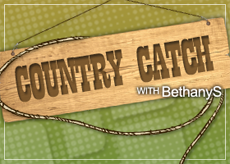 Look out Country Channel! Branan Logan is here and he's ready to take over the country community. His twangy voice and classic country lyrics team up to make his songs something worth tuning into. The potential for stardom is both  tangible and undeniable for this songwriter. Branan's tunes have garnered so much attention in Nashville that his tunes have been pitched to superstars like Brad Paisley and Rascal Flatts. His sound is totally his own, and he is sure to be noticed for his unique approach to country music.
You don't have to be certifiable in order to appreciate Branan's catchiest diddy "Borderline Crazy". With a Phil Vassar sound and Kenny Chesney island-themed lyrics, its only a matter of time before everyone blasts this tune through their speakers. Logan tells his 60-hour weeks "Adios!" but the only thing I see country fans saying him is "Hola!" and  "Muchas Gracias!" for making such great new music.