Friday Flow: "Find Ur Way" by C. Arson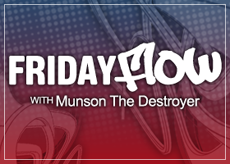 Every Friday on the OurStage blog, I'll be featuring a great example of flow and lyricism on a hip hop song pulled from the OurStage ranks. I'll get the artist's thoughts on the track, as well as post the lyrics or best verse so fans can follow the flow themselves.
Virginia-based C. Arson is another emcee looking to change hip hop back to the socially-conscious art form it once was while trying to find his way through the world. "Find Ur Way" is a down-to-Earth and easy-to-connect to song meant for people who have struggled in their lives.
The concept for "Find Ur Way" came to me quite easy because I feel that's where the majority of us are in our lives: just trying to find our way. The beat really has alot of pain in it, so I knew I could literally just vent on this one. They say art is a reflection of life. If that's true, then this song is staring back at alot of people. I definitely would have to say my favorite line would have to be the hook because it embodies everything I'm saying in the song. My vision is to consistently give you what I promised: not your everyday music. So how am I doing?

V.A.S.K (Vision.Ambition.Strength.Knowledge) Entertainment… More than an acronym.
1st Verse
My heart is a House of Payne, no TBS/
All I'm tryna do is shine, and I ain't talkin' 'bout diamonds – no thoughts of VBS/
I'm tryna live righteous, the opposite of devious/
The road to life got no spares, don't come wit' GPS/
Took some detours 'cause the scenic wasn't the easiest/
Plus I'm humble, so I ask for directions/
Every day is like a class is in session/
At our school you don't graduate if you ain't passing your tests/
While you thinking 'grind' and 'get dat cake'/
Somebody tryna make it right with God, find they faith/2 brothers
"one see The GodFather, having dreams of the Don/
The other only thinking Allah, and read his Koran/
And I can relate to both sides/
Yeah I did my share of dirt, but if you listen I know I'm deeper than most guys/
But I'm still thinking pounds and ki's/
Tryna get my life together, but got mouths to feed/

Hook (2x)
I'm stuck in this maze, ducking the cage/
I'm stressed dog, dont knock me for puffing my haze/
All I'm tryna say/
We on the same page if you tryna find your way/

2nd Verse
Haters saying dat n***** a mess/(F*** Em)
In every situation I'll give it my best/(Naw I'm lying)
Did things I wish I could forget/
I cant deny that I got em, so gota learn to live with regrets/
From Flinstones in Bedrock/
To two kids, and they both born out of wedlock/(I still love 'em)
Never thought I could get paid off the raps that I think of/
Saw 'Dead Presidents' I thought of robbing the Brinks truck/
Most of my n***** clinked up/
Quadruple shot to the pavement if you cant drink up"wishing we could link up/
But you gone to the essence, I got a question/
When I get to heaven, can I put you down as a reference/
But while I'm here I try to make progress/
ASCAP, songs in D.C."Library of Congress/
Ain't thinking 'bout that iced out charm yet/
Tell 'Jacob' I'll be back here in a week, 'cause I ain't take care of moms yet/
And I dont mind buying her purses/
What you see on the surface is the benefit of finding my purpose/
So what I'm hot as a furnace/
Try to look for something deeper"fake preacher make him leave out the service/

Hook (2x)
C. Arson's Not Ur Everyday Music Volume 2: Storytella coming February 23, 2010.