The Next Big Thing: August Rising
August Rising is one of the best rock bands on OurStage if their near constant status as chart toppers during much of 2009 is any indication.  The band has eight Top 10 finishes, including their song "And I Will" which won first place in March on the Indie Rock Channel.  But, considering 4 of their songs placed in December's Top 10 on the Soft Rock, Premium "Artists on the Verge," Modern Rock  and Acoustic Channels, the band can really fit in to just about any rock genre they choose.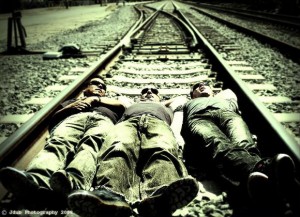 Besides playing shows in their native California, the August Rising has been approached to open for some major established artists on upcoming tours.  The band has worked diligently to surround themselves with a great team of people working to make their success a reality. By utilizing social networking, the band has begun reaching out to over 30,000 fans across multiple platforms.
Jeff (vocals/guitar) had this advice to offer to other bands: "We've really learned over the past year how important the whole idea of 'who you know' in this industry really is. We don't look at who we know as a substitute for hard work, but rather taking advantage of opportunities when they're given."
Take a listen to some of their songs below and keep an eye on this ever-evolving band!