Needle in the Haystack Follow Up: Alexandria Maillot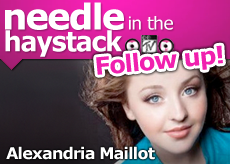 This week we meet a girl with a big dream and the talent to achieve it. To wrap up this week's Needle in the Haystack, we're sharing a quick video featuring singer-songwriter Alexandria Maillot. Download her free track and check out our Tweet & A (where you'll learn she's a Justin Beiber fan).
Watch the interview to see what's next for this soon-to-be star!