Download of the Week: Shelly Fraley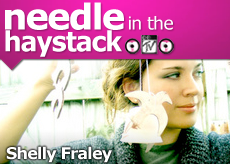 Raised in a small town in Kansas, Indie artist Shelly Fraley is ready to show off her big sounds and catchy tunes to the masses.  You might already recognize Fraley's voice from her numerous song placements in shows and movies including One Tree Hill, Knight Rider, Ghost Whisperer and Free Willy: Escape from Pirate's Cove. Now that she's back in the US after a recent tour in the UK, she is preparing her 10 song album for independent release by the end of summer.
This week, Fraley is giving away her single "Hi Hi Hi" as part of the Needle in the Haystack feature.  Keep an eye out for more from her throughout the week!