OurStage Chats with Swedish Indie Pop Band The Radio Dept.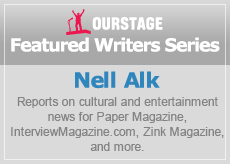 Swedish trio The Radio Dept. recently played the States with a double-lineup in NYC. The pop princes return in 2011 with a compilation project (twenty-eight tracks comprising fourteen A-Sides and fourteen B-sides) as well as a full US tour. But forget the facts, these Swedes are all about presenting a perspective.
Stockholm-based threesome The Radio Dept. were flown overseas last week to play two sold out shows in New York City, at The Knitting Factory on Tuesday and Bowery Ballroom on Wednesday. Poised to release their comprehensive compilation of singles Passive Aggressive: 2002-2010 in January, as well as embark on a proper US tour beginning in February, The Radio Dept. seems to be sitting pretty. The band released its latest full length album, Clinging to a Scheme, in April, and is receiving critical praise the globe-over. The first single off the album, Heaven's on Fire, was the No. 1 most popular tune on the Hype Machine, making them the fifth most blogged about band in the world earlier this fall"this on top of past accomplishments, which include three albums, eleven EPs, five singles and features in both a Gucci ad as well as on the soundtrack for Sofia Coppola's Marie Antoinette.
All of that said, the guys aren't terribly keen on being in the spotlight. While they are humbled by the widespread recognition, they say having all eyes on them is unnerving. Explains lead singer and guitarist, Johan Duncanson, If you want to see extremely scared people on stage who really don't want to be there, that's a Radio Department show. RD's main man harks back to an earlier experience, but the sentiment still stands; To me it's about challenging myself because I'm really shy. It's a weird thing for me to walk up on stage and play guitar and sing to a lot of people. It's not natural. It's weird. But I push myself to do it anyway. And sometimes I [still] get sacred.
Indeed, the threesome exuded a certain degree of distant nervousness in Brooklyn Tuesday night, but perhaps that was in part due to the entire system shutting down mid-show. Mics started squealing shrilly and the boys backed off, making way for the tech guys to glue the evening back together. In the end, the show went on, though not nearly long enough, given the impression I gathered from fans"and the early hour at which things seemed to wind down. This band's been around since the mid-90s and the current lineup, which, in addition to Duncanson, includes Martin Larsson on second guitar and Daniel Tjí¤der on keyboards, is much revered. When they pass through, RD devotees crave a solid set. I'm afraid we didn't get as much as we wanted. Be that as it may, many an audience member jammed out to the group's dreamy pop songs, heads bobbing and feet shuffling the entire time.
On the topic of jamming, and almost assuredly in direct relation to their trepidation about being on stage , they made a point of confessing that they're anything but a jam band. Well, that and a rock band. We used to call ourselves ˜anti-rock,' they tell me. We don't jam. We're not that kind of band, really, Duncanson says. We hate jamming. Johan really hates jamming, laughs Larsson. Duncanson affirms, I hate jamming. I ask them why that is and Duncanson doesn't hesitate to illustrate: When I was in my teens and going to parties, a couple people would take out acoustic guitars and start jamming. It kind of made me sick. So I promised myself never to do things like that. It's just such a hippie thing to do. Posers.
You would think Duncanson was an arrogant guy, given his statements, but the man behind Dept.'s vocals is absolutely sweet, articulating things in a sincere manner with zero affectation. In fact, none of them put on airs. We're not good musicians, really. We're not that good of musicians. Like, technically. We're not capable of doing any thing any day, just having concert. We need to train, Larsson shares, the quintessential antithesis of a "hippie poser."  Tjí¤der chimes in about something he terms the rock and roll myth, purporting, You don't have to be this self destructive, suffering artist. While he isn't necessarily intending to equate that to "hippie posers who jam a lot," it rounds out the ever-evolving portrait of The Radio Dept., combating their tendency toward the elusive. There [seemed to be] rules about bearded men playing sweaty, hairy music [that made it] more real than clean-shaven, young guys playing pop music. I've always thought there's something really wrong there, Duncanson states in defense of their sound and on behalf of all anti-rock outfits.
In the end though, which is nowhere in sight for these Swedes, it all comes down to one vital detail: the music itself. The Radio Dept. can be invited to do a double-header halfway around the world without asking and sell out twin shows without trying. They can come across like deer in headlights whilst performing (not perpetually, but occasionally) and make a subtle but successful comeback post-equipment malfunction. They can despise the stage, hate to jam and rail against rock-and-roll. Deduction: they're pretty unbelievable in my book. Three early-thirties savants, who possess more lyrical acuity and instrumental prowess in their pinky fingers than half the GRAMMY nominees, are real, raw, genuine artists. Forget expectations of the industry. These guys are around to defy them. But not in some attention-seeking, deliberately rebellious way. In the real way.  Duncanson says it best, summing up; We've never been into ˜making it' or anything like that. We just wanna make music. Play on, sweet Swedes, play on.
By Nell Alk
Nell Alk is a culture and entertainment reporter based in New York. Her work has appeared in Paper Magazine, InterviewMagazine.com, Zink Magazine and BlackBookMag.com, among others. She also contributes to NBC's Niteside blog