Download of the Week: Alexandria Maillot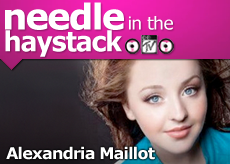 As a teen with something to say and quite the set of pipes to say it with, Alexandria Maillot raises the bar for her fellow artists.  Even at the tender age of 16, this captivating sing-songwriter has an incredible persona and maturity seen in few respectable musicians of her age.  Bubbling with creativity, Maillot uses social networking to promote herself as an up-and-coming artist, including a video diary that reminds fans she's still a teen!
Maillot also has a long list of accomplishments including selection for Virgin Radio's Best of BC program, attention from major music industry players such as David Foster and on stage performances with famed artists such as Jann Arden. Following these wakes of success, Maillot was selected as this week's Needle in the Haystack artist and provided OurStage with free download of her song, "Just Another Girl."   Take a listen, grab the download below and watch out from more Maillot here on OurStage and MTVMusic.com.