Finalists Ready To Face Off In The Converse Battle Of The Bands Competition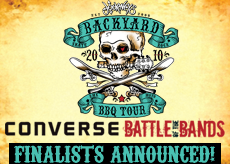 The gauntlet has been laid out and the bands are ready to throw down! All month long bands have been submitting their best original songs into the Converse Battle of the Bands Music Channel.  The fans have spoken and the powers that be have made their decision. Head to the North Shore Mall in Peabody, MA for the epic battle this Saturday May 29. The bell will ring at high noon!
In the blue corner, we have Allston natives Therefore I AM.  Armed with incredible energy and truthful lyrics which aim to inspire, these Boston boys are looking to leave the competition bruised and splintered on the floor. Therefore I AM is going to pull out all of the stops before they head out on their  first ever trip to Australia at the beginning of June.
And in the red corner we have Alternative Press Magazine's Top Unsigned Band of 2009, Medford's own The Appreciation Post.  With their latest EP,Work/Sleep, the pop/rock quartet show they are strong contenders for the prize. And as their latest video "Beating Of A Lifetime" demonstrates, they know a thing or two about pulling punches. This will certainly be a great test before their next performance at T.T. The Bear's Place at the end of June.
Let the battle begin!