Download Of The Week: Satellites And Sirens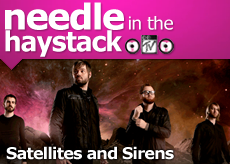 Boasting a bright, electronic christian rock sound, Nashville natives Satellites and Sirens are making waves in the industry with their first, self titled LP.  The band formed via Craigslist when frontman Geoff Hunker moved to Nashville.  Today, the band's chart success here on OurStage includes three Top 10 finishes and a 2010 Best Of ranking. Their  song "Light The Night" is currently featured as the theme song for the Leukemia and Lymphoma Society's annual Light The Night walk.  And with 5 weeks on the Top 40 Charts, the band's single "Anchor" seems like the perfect pick to be this week's free download for Needle in the Haystack.
Keep an eye out for more from Satellites and Sirens throughout the week!