Folkin' Around: Lelia Broussard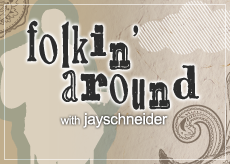 The polished and organic sound of Lelia Broussard caught my attention with her simplistic "piano and voice" re-realization of Bruce Springsteen's "Dancing in the Dark". Her recognition that a great melody can stand on its own is mirrored in her latest single, "Scared to Feel". Beginning with simple guitar strumming and personal lyrics, Broussard unfolds the song into an array of beautiful folk/rock instrumentation and a hint of angst. The fact still remains, though, that the message lies in the melody which easily floats above the accompaniment.
Broussard began her career early, moving to New York City when she was just 17. Her relentless songwriting and touring throughout the US landed her a publishing deal with Ronder Universal Music Group. She moved to Los Angeles, CA and began writing for her debut release On the 9, which was produced by Dave Trumifo (Wilco and My Morning Jacket).
Check out her song "The Grass is Greener" and listen to some more music on her OurStage profile.