Needle In The Haystack: Go Periscope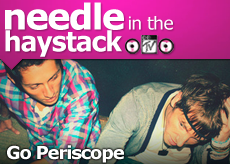 New Year, new music! Welcome to the jump start of 2011's Needle In The Haystack. Hailing from Seattle, Go Periscope's music is anything but dreary. In fact, it could be the perfect antidote for the rainy landscape of the band's homestead.
Featured in Editor 2010 Picks: Heavy Rotation Playlist, Go Periscope serves up fist pumping eighties music infused with modern twists on pop songs. They recently released a killer take of Day N' Night (Kid Cudi) Vs. Crush Me (Go Periscope) and their cover of Taio Cruz's "Dynamite" could give the original a run for its money.
Listen and learn more in the sweet vid below, and check back over the week to see more interviews, posts and songs from Go Periscope. Also be sure to check out the homepage to grab a free download of "Crush Me".
For fans of: 3OH3!, Odd Year, Metro Station, The All-American Rejects, Cobra Starship