Q&A With A Day To Remember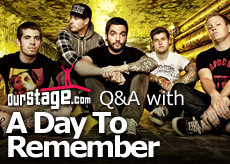 Despite being leaked, A Day To Remember's most recent effort, What Separates Me From You, has experienced great success, presumably to due to the fact that the Florida rockers possess a great skill in blending styles seamlessly, finding themselves on the brink of genre reinvention. While other bands are quick to chastise those who try to pigeon-hole their musical tastings, ADTR has found a sweet spot and settled into their unique fusion of metal, punk, hardcore and pop.
We caught up with guitarist Neil Westfall to discuss the success of What Separates Me From You, why a leak wasn't the worst thing the in the world and the band's return to Warped Tour.
OS: Your new record, What Separates Me From You, received rave reviews from multiple Web sites and magazines. How did you build on the success from Homesick on this album?
NW: When we went into the studio, we had a lot of momentum coming off a hard touring cycle.  So we just capitalized on that by not really taking any time off and paying shows even while we were in the studio.
OS: Unfortunately, the new album was leaked a few days prior to the release. How did you react to that?
NW: We were actually kind of happy"it was only like 5 days out or something. Homesick leaked 2 and a half weeks out.  It worked out well, because our fans are amazing.  They may have downloaded it early to check it out, but they also went out and bought one to support us.
OS: You've faced some criticism for mixing the genres of pop-punk and hardcore. How do you respond to people who say that blending genres is a bad idea?

NW: Well, we don't respond to people like that.  We just keep doing our thing.  We just keep touring and writing music we love.  That was one of the first lessons we learned as a young band coming up.
OS: In mixing the two genres, your influences must be varied. Who are some of the artists that most influenced your songwriting for each record?
NW: Well, every record we've made has been influenced by Blink 182 , Millencolin, NOFX, On Broken Wings, Seventh Star.  We were playing a lot of European festivals during the time that we wrote WSMFY, so we were surrounded by different types of music.  That helped us take our music in new directions.
OS:  Chad Gilbert from New Found Glory produced both Homesick and What Separates Me From You. What made you want to work with him for a second time?
NW: He really gets us.  He understands exactly what we are trying to do with our sound.  He's also an awesome guy¦ and it doesn't hurt that he's in one of our favorite bands.
OS: You've spent a lot of time touring around the US and overseas. How do crowds in different countries receive you?
NW: I think the best way to describe it is that before every show, the crowd is a little different.  But when we play, and everyone is in there, and it's dark, it is pretty much the same everywhere"people just having a good time.
OS: Josh and Jeremy have launched their own record label called Running Man Records. What do you look for in artists to potentially sign?
NW: I think they are just looking for something good and original.
OS: Despite originally saying you weren't planning on it, you've already announced that you'll be out on Warped Tour in 2011. What made you change your minds?
NW: Warped Tour is badass!  We know it will be an awesome summer getting to share the stage with some of our best friends!
You can buy What Separates You From Me on iTunes now.