Artist Takeover: Needle In The Haystack Sylvana Joyce And The Moment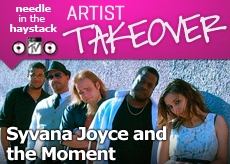 Sylvana Joyce and The Moment came together in what seems like a stream of fate-filled circumstances"changing gears from acting to singing on a whim, posting for bandmates on the Internet and scoring a venue residency within weeks. But the life of an indie act is never picture perfect, and the steep climb to the top leaves every band looking for more…
"Our band started as a whim. Last year, I was taking any acting auditions I could find. I was unemployed, disheartened by the entertainment industry, and feeling inadequate. Suddenly, an Internet posting for a back-up singer audition caught my eye. "I could pull that off," I thought. So I showed up. We were expected to sing songs that showcased our specific strengths and quirks. I sang and accompanied my own songs on a creaky, ancient upright piano to an audience of two. One of them broke the silence after the last of my three selected compositions.
'It says here that those songs were all written by you, is this true?'
'Yes,' I responded, flustered. Oh, no. The moment of truth.
'…I'm incredibly impressed.'
There are many reasons why that audition was both a failure and a success, but the thing no one could have predicted, was that I would walk out of that audition, straight home to my laptop, to post a Craigslist ad searching for band members.
I swear, that's how easy it was. I sat down, and wrote to my future band, telling them how it was okay that they were holding out for their dreams, because I was, too. I posted my solo YouTube videos, me at the piano or guitar, and told them if they liked what they heard, to send me their resume. And that was it. With a click of a button, I had finally verbalized my very secret and real desire"to pursue a career as a musical performing artist.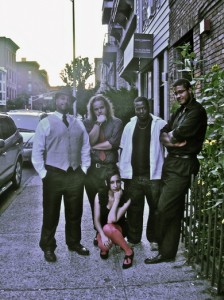 One audition later, with me as the audience, three talented strangers became my bassist (Peter Bellomo) percussionist (Miles Lassi) and guitarist (Chris Smith). I asked my childhood friend and violinist, Sean-David Cunningham, to attend one of our early rehearsals. He brought his violin, and began to jam with us. The rest was history.
Our experience as a band thus far can best be described as incredibly lucky. Weeks after first getting together, we had already scored a month long residency at a wonderful live music venue in New Jersey. Within a month, we were bringing in a consistent number of guests to our gigs. By the time we hit the six month mark, we were finalists in competitions, booking major venues in NYC, and preparing to record our first two singles
But with all auspicious movement, there's always an element of drama. We have our full share.
Our greatest struggle has been finding a drummer who will commit to this vision I have. Our percussionist, still a senior in college, has found it hard to keep up with our demanding schedule, and we've settled with temp drummers, all talented; none willing to make us first priority. This vision I have is big…it fills many stadiums. And it's shared by each one of us. We don't want a temp, we want someone willing to stick it out. Someone willing to grow with us, and contribute to the gross sum of our creations. Every time the band gets together, we leave with slap happy faces. There's some element of romance and infatuation to being a band"we even suffer from withdrawal after concerts and rehearsals (luckily, there hasn't been more than two weeks between either!). It just feels right. The kind of right that makes you giggly and excited and constantly in awe. And that's the energy we want to share with our future drummer, and hopefully some day, with the entire world"that feeling that you're a bird taking off a cliff, feeling the true exhilaration of flight…"
-Sylvana Joyce