FREE DOWNLOAD: Needle In The Haystack Bella Ruse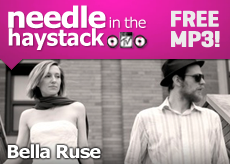 Upon first listen, its easy to think that this week's Needle In The Haystack artist Bella Ruse got confused when naming "Complicated Rhythm", the song up for free download. With simple and to-the-point melodies matched with lots of open air and light breezy guitar strumming, the rhythms on the track seem anything but complicated. Upon further inspection however, the song opens up with sounds not often found in a traditional pop folk song. Trumpets, bells and even a typewriter could easily confuse a song, but Bella Ruse presents these quirky sounds with effortless ease that fold into a wonderful melody. The duo even manages to simplify a sticky romantic situation with the lyric "I'm your lover/you're my friend/and we're both wrapped up in a complicated rhythm". Nothing complicated about it.
Check out Bella Ruse's explanation of how this (and other songs) came to be, and download "Complicated Rhythm" for free below.