Artist Takeover: Needle In The Haystack Bella Ruse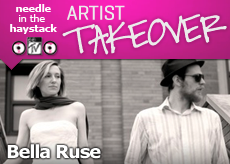 There's no handbook for being an independent musician nowadays. No checklist of items that once accomplished guarentee the gates of Madison Square Garden will open with a sold out crowd waiting for you. Hard work and creativity seem to be the name of the game lately, and  this week's Needle In The Haystack artist Bella Ruse seems to have embraced the challenge.
"Hiya. We're Bella Ruse. We're a folk pop duo (I'm Kay, he's Joseph) and we travel the country in our vegetable-oil-powered van. So far, we've been through 44 states on tour; still working on New Hampshire, Florida, North Dakota, Louisiana, Hawaii and Alaska.  We eat a lot of fast food along the way because the smell of the veggie oil makes me hungry for french fries. We should probably stop doing that.
Today I'm trying to write a song for the RPM Challenge, in which you record a ten-track album in the month of February. I've written one full song so far and about fifty-seven bits and pieces so I'd say I'm doing pretty good. Joseph is writing his ten songs about Pecos Bill for a musical he's working on with a friend. I don't think he has any songs done yet. I win.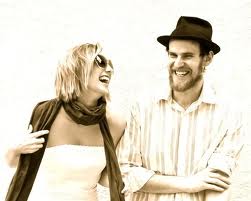 The first song I wrote for RPM is called "Operation". As in the game where you remove little plastic objects with tweezers from a board shaped like a man and try not to touch the sides or else the man will get shocked and his lightbulb nose will light up. If his nose lights up, you have to put that piece back and try again. I always hated that game, but it turns out it's a pretty good metaphor for life and love and all that. How DO you remove a broken heart without getting shocked? My nose is always lighting up."
-Kay Gillette