Sound And Vision: Why Did The Academy Stop Picking Hits For The Best Original Song Oscar?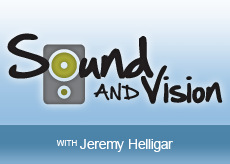 First, the good news: Tunes from
Country Strong
,
Tangled
,
127 Hours
and
Toy Story 3
will have the distinction of competing for Best Original Song at the Academy Awards on February 27th. The bad: Not one of them touched Billboard's Hot 100 singles chart.
Surprised? It's not like movies have been putting on the hits lately. A few tracks from Burlesque grazed Billboard's charts, but for the most part, soundtracks are no longer the record-label cash cows they used to be. Even a blockbuster film like Alice in Wonderland couldn't turn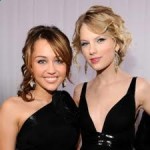 Avril Lavigne's "Alice" into a hit. (It peaked at No. 71 on Billboard's Hot 100.) When I think of recent soundtrack-single successes, only two quickly come to mind: Miley Cyrus's "The Climb," from 2009's Hannah Montana: The Movie, which was disqualified by the Academy because it wasn't written specifically for the film, and Taylor Swift's "Today Was a Fairytale," from last year's Valentine's Day, which, unlike two Burlesque numbers, wasn't even deemed good enough for a Golden Globe nod.
To find an Oscar-nominated song that made a dent on the Hot 100, you'd have to go back to 2008, when "Falling Slowly" from Once went to No. 61 after winning the Academy Award. That's as high as the Beyoncé-sung Dreamgirls nominee "Listen" had peaked in 2006. (The 2009 champ, "Jai Ho," from Slumdog Millionaire, had to be translated into English-language pop by Pussycat Dolls in order to get to No. 15.)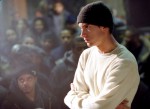 The last Oscar winner to hit No. 1 was
Eminem
's
8 Mile
single "Lose Yourself," which took the prize in 2003. In comparison to the '00s, every Best Original Song of the '90s was a sizable chart hit, with two of them""My Heart Will Go On" from
Titanic
and "A Whole New World" from
Aladdin
"going all the way to No. 1. Between 1981 and 1987 every Best Original Song Oscar winner was also a No. 1 Hot 100 single. Back then the category was more interesting and a win felt more prestigious because people could actually sing along with the contenders when they were performed on Oscar night.
But when did the Academy stop paying attention to what was on the charts and on the radio? Probably around the same time that movie hits dried up, soundtrack sales plummeted and the labels stopped releasing them with any regularity. Michael Jackson's This Is It was a smash in 2009. This year, Justin Bieber: Never Say Never didn't even get a soundtrack"unless you count the Justin Bieber remix album that was released on February 14th, three days after the movie opened at No. 2 with a North American box-office haul of $29.5 million.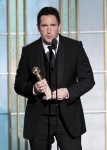 David Fincher
went edgy when he hired industrial rocker
Trent Reznor
to write the music for
The Social Network
, whose Oscar nomination tally includes Best Original Score, but it's telling that he didn't get
Justin Timberlake
, who costarred in the film, to contribute a new pop song. Despite Trent Reznor's chart success as the leader of Nine Inch Nails, the soundtrack only peaked at No. 20 on the Billboard 200 album chart. He'll score Fincher's upcoming English-language version of
The Girl With a Dragon Tattoo
, but unless he wins the Oscar to go with his Golden Globe, I'm sure no one is counting on improved soundtrack sales.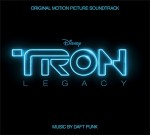 Though TV soundtracks still occasionally chart well" especially if they have the word "Glee" in the title"movie soundtracks seldom do because they rarely seem to feature songs that you can't find elsewhere. These days when movies use music to accompany the onscreen action, directors generally turn to classics as well as recent and current hits rather than commissioning new tunes.
Daft Punk
's
Tron: Legacy
score charted quite well, but it functioned as much as a proper Daft Punk album. For the week of February 19, 2011, the musical companion piece to
Country Strong
was the only movie soundtrack in the Top 40, and not one song on the Hot 100 originated in a film.
A couple of weeks ago, Barbra Streisand sang "Evergreen (Love Theme from A Star Is Born)," 1977's Best Original Song Winner and a No. 1 Hot 100 hit, at the GRAMMY Awards. Thirty-four years later, everyone still remembers it. I doubt that anyone will be singing any of this year's nominees at the GRAMMYs or even in the shower in 2045. I doubt that anyone is singing any of them now.