Needle In The Haystack: French Cassettes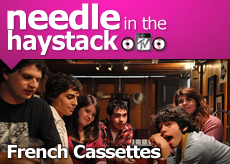 This week's Needle In The Haystack artist French Cassettes hails from Ripon, California. And while we're not sure if that's anywhere near Indio, we think the winds of Coachella may have been blowing through, as whiffs of festival favorites like The Black Keys and Local Natives can be picked up in both their melodies and vocal stylings. The French Cassettes take it a step further, invoking both their moniker and Parisian singer songwriter influences.
Learn more about the six piece below, and stay tuned for more from the French Cassettes all week long.
For fans of: Arcade Fire, Cold War Kids, The White Stripes