Artist Takeover: Needle In The Haystack French Cassettes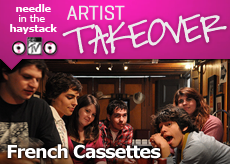 One of our favorite things about working with independent artists is that from humble beginnings come humble musicians. Nothing warms our ice cold hearts more than hearing a band's story of how they started in their garage with high school friends and have gone on to truly embrace the fun of music together. Rather than listen to us wax on about the quantities of indie music, who better to discuss first hand than this week's Needle In The Haystack artist, French Cassettes?
"Coming from a small central valley town with a population of 14,000 has definitely played a large role in how our band developed. Scott and I have been writing songs since grade school and our first actual show was on the bleachers by our high school's pool. We had two acoustic guitars and just played a bunch of Strokes covers. Our grandma was just as excited for us then as she was when we won the Hayward Battle of the Bands, took second in the Bay Rising Battle of the Bands and were Top 4 finalists in a nation-wide MySpace competition. Every show we've ever played has secretly been dedicated to her.
I think even now we've earned a reputation as one of the humblest bands in the area. Maybe not the humblest¦ poorest feels more accurate. We just got done recording our newest set of songs where we needed special tools just to turn the busted tuning pegs on the guitars and relied heavily on the lenient return policy of Guitar Center for experimenting with different basses.
Probably the best thing about being an indie band right now is that nothing is off limits. Last summer we were playing a brutal four hour set at a car show and getting paid in cheeseburgers when Scott, apparently struck with inspiration, started playing some spontaneous fifties rock and roll riff which came to be the only song we play live that has never been rehearsed, discussed or even given set lyrics. People have asked me what that one song that goes As long as I'm with you-oooo is all about and I still don't have an answer. Get to know us even better by listening to our unreleased EP 'Summer Darling""."
-Scott Huerta