Sound And Vision: Can R.E.M. Rock The Charts Again With "Collapse Into Now"?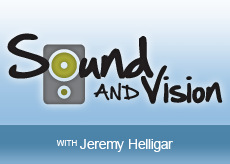 If you read the title, and you're still with me, maybe there's hope. R.E.M.'s publicity machine might be working. Twenty years ago, for a brief window in the early '90s before grunge took over, the band owned the title of the biggest American rock band on the planet.
And then there were three. Drummer Bill Berry departed after the 1995 Monster tour, leaving R.E.M. a trio, and diminishing returns kicked in with the next several albums. When Around the Sun came out in 2004, not only were reviews somewhere south of tepid (even the band has gone on the record as hating it), but it became the first R.E.M. studio album not to go gold, failing to enter the Top 10 or produce any chart singles. The Monster-wannabe Accelerate did better in 2008 (it debuted at No. 2), but like it's predecessor, it failed to cross the 500,000 sales mark.
If at first and second you don't succeed… On March 7, R.E.M. will try to avoid a strike-out with their 15th studio album, Collapse into Now.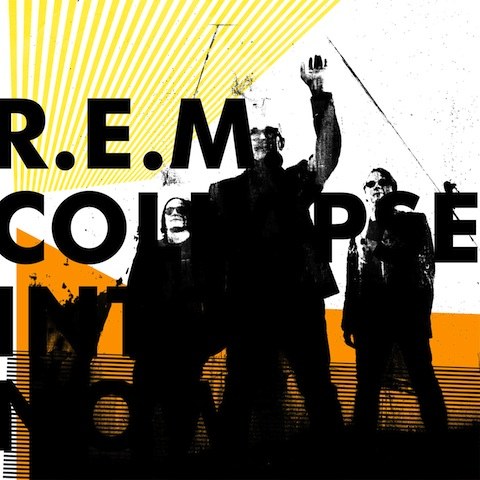 These are hard times for the monsters of '80s and '90s rock. U2's last album didn't do anywhere near the band's usual business. Bon Jovi continues to sell respectfully, but theywere just snubbed by the
Rock & Roll Hall of Fame
. Kurt Cobain is still dead, Oasis is history and Radiohead doesn't care if you get its music or not. The '80s and '90s rock bands with the most commercial potential either disbanded and reunited (like Pixies and The Cars, whose first album in twenty-four years,
Move Like This
, comes out on May 10), took extended hiatuses (AC/DC, Metallica) or have a lead singer who took Simon Cowell's spot on
American Idol
(lucky Aerosmith).
R.E.M.'s going to have to get back on track the hard way, by releasing great music that thrills old fans while winning over new ones. Bassist Mike Mills has said that Collapse into Now is the band's best work since Out of Time, the 1991 album that remains the band's best seller and also spawned R.E.M.'s biggest hit, the Top 5 "Losing My Religion." Although there'll be no tour to support the new album, the band has been promoting it as if they actually believe what Mills says.
The publicity blitz began last fall"where else?"on the Internet, as R.E.M. made the album cut "Dicoverer," which is as great as anything from the band's golden years, available for download on its Web site. Over the next few weeks, lyric videos for various tracks began popping up on the band's YouTube channel as did a
Collapse into Now trailer
, featuring snippets of R.E.M. performing key cuts. You can even "R.E.M.ix" the track
"It Happened Today"
online. And just in case everyone had forgotten that these guys were once multi-platinum superstars, the Coldplay of their day, "Losing My Religion" popped up in an episode of
Glee
.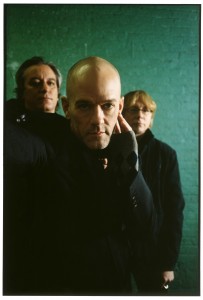 But can three fifty-somethings competing with popular rockers half their age recapture past glory? Even their big-name collaborators on
Collapse into Now
"Eddie Vedder, Patti Smith"are talented relics from a bygone era. The tracks they've previewed so far have been a mixed bunch (fast, slow, brilliant, so-so), and thus far the first single, "Mine Smell Like Honey," hasn't been seen anywhere near Billboard's Hot 100.
It's going to take more than a grassroots multi-media campaign and a few bonus cuts to make Collapse into Now fly off iTunes' virtual shelves. The band will need unanimously spectacular reviews to compete with spring arrivals from Britney Spears, Foo Fighters and Snoop Dogg. And even then, that might not be enough. If all else fails, R.E.M.'s best bet will be to get up out of those rocking chairs and hit the road. Maybe there's still an open headlining slot on Lollapalooza 2011 with Enimen, Muse and Foo Fighters.
With fewer artists selling platinum, record sales are becoming increasingly irrelevant anyway"especially for icons of pop and rock like Madonna, U2 and, yes, R.E.M, whose fans won't click on their YouTube links with the fervor of Justin Bieber and Lady Gaga disciples, and who don't rule the singles scene the way whippersnappers like Katy Perry and Rihanna do. For them, releasing new music should be more a labor of love, a way to avoid becoming a strictly nostalgia act, than a means to multi-platinum. If R.E.M. wants its glory back, if the band is to avoid collapsing into now, then the show"featuring something old, something new, and of course, "Losing My Religion""must go on.
[Editor's Note: You can now stream R.E.M.'s
Collapse Into Now
on NPR.org prior to the Marth 8th release.
NME
also reported on Wednesday that the band has tapped a group of filmmakers including James Franco, of all people, to create music videos for each and every song on the album in an attempt to redefine "the idea of an album in 2011, beyond a music fan's idea of an album 20 years ago."]