Needle In The Haystack: Oh My!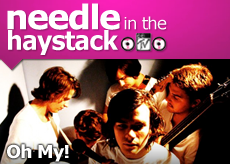 This week's Needle In The Haystack is a mystery wrapped in good tunes. While Oh My! seems to have accounts on a respectable number of various sites, they choose to let the music do the talking, leaving little to be said by way of bios, etc. We do know that the five-piece hails from Sweden, which we had to correct ourselves in thinking was the land of the wooden shoes (that's Holland, by the way). And that they are "defying the icy chill, delievering the rock, bop and swing." Our favorite tid bit has to be them citing Christopher Walken's hair as an inspiration. Isn't it always, my friends.
Listen and learn more about these Swedish imports below, and stay tuned for more from Oh My! throughout the week.
For fans of: The Strokes, The Kooks, Arctic Monkeys