Q&A With Drive-By Truckers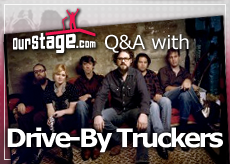 If you've ever wondered how band members can spend all their time together without wanting to kill each other, alt-country pioneers Drive By Truckers have the answer. They've been together more than fifteen years, released nine highly-acclaimed studio albums, and despite near-constant touring they've managed to not get sick of each other . Their latest release, Go-Go Boots, continues where 2010's The Big To-Do left off, showcasing the band's foot-stomping southern soul and rich storytelling. Drive-By Truckers bassist Shonna Tucker sat down with OurStage last month to talk about the album, as well as her tips for staying sane on the road and how excited she is that vinyl is back in style.
OS: DBT was recently the subject of the documentary The Secret To A Happy Ending. How was the filming experience?
ST: It's actually very strange to have someone follow you around. I guess it ended up being about three years or more of filming us, and it's just very strange to have someone there all the time. Barr [Weissman]"the man who made the movie" he's just a super cool dude. He's as cool as it gets as far as not being obnoxious being there with the camera"he's pretty much invisible. But it's a little odd having that much of your life on video. Some of the things that you'd like to forget about you can't, ˜cause it's a movie now. But it's cool, it's great. The movie is great, and people seem to like it. I'm glad it's out there.
OS: There's one line in the film I really like " If you wrote down on a piece of paper the idea for this band, nobody would do it.
ST: It's true! I mean, it's a ridiculous idea. People ask me all the time about being the girl in the band and all that, and I pretty much tell them that everything about this band is ridiculous, that's just one more thing that you shouldn't do that's working out right. [Laughs]
OS: So it isn't tough for you to be the only girl in a band that's kind of a boy's club?
ST: Not really. Only occasionally, and I think that's more of just being with the same group of people for so long in a tiny space. Sometimes I just want to take off walking by myself. Only occasionally is there too much dude stuff.
OS: So what are your secrets for staying sane in a band that tours together so much?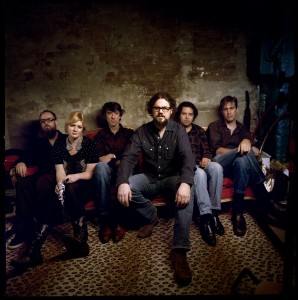 ST: I heard [Mike] Cooley [guitar] and Patterson [Hood, frontman] answer this question with, Never rehearse. Practice will break up the band. I guess that's true, ˜cause we don't really rehearse. We tour so much that we don't do that. And when it's time to go home, everyone goes their separate ways and has their own personal lives now. Everybody seems to be happy and healthy for once, and that helps. If you have something good to go to, you can take a break physically and mentally from the road. Then when you get back together, everyone's refreshed and ready to go. And we're all very honest, and we respect each other as musicians and writers and all that, and that's key. You can't get along in a situation like this with someone you don't agree with. And I got lucky, I came along later when they had already weeded through a lot of the situations that weren't really working.
OS: What can you tell me about your latest album Go-Go Boots? What's it like?
ST: That's a good question. It's great. [Laughs] We had a blast making this record. We went into the studio for the last record and recorded, like, thirty songs. It was too much for one record, and we didn't want to make a double album, so we decided to just make it the next record and just keep working on it. The songs fell in place naturally. It wasn't like we had to sit around and say, Which songs go on this record and which songs go on this one? It wasn't like that. It all happened very organically. I think it's a little more soul and maybe a little bit more country, but the rockers are a little bit more rockin' too.
OS: Well, you guys definitely have a lot of different influences in your sound.
ST: Yeah, it's like we were talking about earlier. The idea on paper doesn't seem realistic. We all come from different backgrounds, even though most of us come from the same town right outside Muscle Shoals, Alabama. That was such an influence on us, as far as growing up there with all the soul music and all that. The other guys are a little bit older than me, and part of their teenage years and rebellion came from punk rock. That's what you were supposed to do, and everything else was lame. I came along a little bit after that, so I didn't get so much into that until I was in my twenties or so. And I never really got that into it anyway. I have a soul and country background, mostly. Some of the other guys" Johnny on the pedal steel"he, of course, came from a lot of country. All together it makes for an interesting sound.
OS: You've said that you're a bass player first, but you've also written songs for DBT. Did you do a lot of the writing on this album?
ST: Yeah, I have… well let me think about it. [Laughs] Two of my songs are on there, and I do another song, an Eddie Hinton song. So I have a couple of songs on there. That's usually the way it works. I am not as prolific as, say, Patterson is. He's just insanely prolific. There's no shortage of songs within the group, it just works out to where they always have more songs than I do on the record. I don't write as much.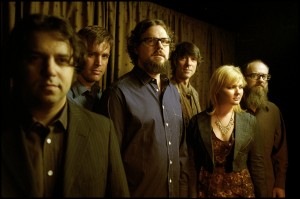 OS: Do you usually write separately and then bring your songs to the group, or do you work on them together?
ST: Ninety percent of the time we each come with a song pretty much complete. The way we work is we come in, someone has a song and plays it"grabs a guitar maybe and just sings it and plays it. Then everyone goes and does their thing on it. No one tells anybody what to do. We just get the chords down in our head, then it's free range. Whatever you want to add, it's all good.
OS: You guys have always pushed your label to release your albums on vinyl. Are you psyched that records are becoming popular again?
ST: Oh, yeah. It's been amazing to watch that happen over the last couple years. Record stores seem to be coming back alive after near-extinction a couple years ago. It seems like more and more places are hanging in there. It's because people think records are cool again. We put ˜em out, and in our experience, people buy ˜em. So it's good. We all really do love to listen to vinyl. We all have our record players and we tour sometimes" if it works out"with a record player in the back lounge. We all break off and go shopping for records, then come back and listen. We're all pretty dorky like that. We want other people to by records too.
OS: So what else is going on with DBT this year? You're touring, of course.
ST: Yes, plenty of that. [Laughs] That's about it. The record [came] out here [February 15] and we're heading to New York and kicking it off, and then we're just going all year. We have a couple of European tours in store. Just touring and stuff.
You can find Drive-By Truckers' upcoming tour dates here, and be sure to check out their latest album Go-Go Boots.