Announcing The Winner Of The NextMovie Review Competition!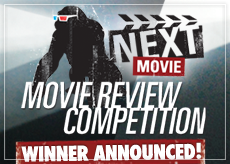 Recently, MTV launched NextMovie.com"a movie site for the next generation featuring celebrity interviews, movie news and video reviews from rappers and rockers. And naturally, since we have no shortage of talented rhymesayers or rock-and-rollers on OurStage, we got in on the action with the NextMovie Review Competition to offer one lucky rap, hip hop or rock artist a chance to have their own video review posted on the NextMovie site!
Well, a winner has been chosen: Nikki Lynette's fierce track Love U Crazy, earned her the prize. This Chi-town native is no stranger to success on OurStage. In fact, Nikki regularly kicks ass and takes names in the urban charts. Love U Crazy is a genre-bending hip-shaker that combines equal parts rock and rap in one tasty alternative hip hop package guaranteed to get you on your feet. If you're ready to jam out to spiky guitars and sultry vocals check out Love U Crazy below, and keep an eye out for Nikki's NextMovie review when it airs on OurStage! You can also head on over to nextmovie.com to see Lego versions of summer blockbusters and hear what MC Hammer thought about Thor.