Twin Berlin To Record Their Next Record With Travis Barker

Travis Barker is perhaps one of the most, if not the only, universally recognized drummer in today's musical landscape. In March, we came together with Guitar Center to give one OurStage artist a chance to work with him. Now, after battling their way through thousands of other entrants and pleasing the ears of the judging panel"including Travis Barker himself"Twin Berlin is taking home Guitar Center's "Your Next Record with Travis Barker" Competition Grand Prize!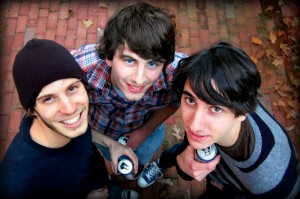 The Connecticut-based trio spends their time bridging the gap between New York City and Boston with an aim to take over the local indie scene. Steadfast in their mission to bring back the no frills rock 'n' roll good times, the group is turning heads quickly thanks to television appearances and an MTV "Best Breakout Boston" Award nomination. Twin Berlin landed the Grand Prize with their song "Can't Take, Take, Take". Be sure to check out their OurStage profile for more info and tunes. 
Congrats to Twin Berlin from everyone at OurStage and Guitar Center! Check back to the OurStage magazine for our interview with Twin Berlin about their experience.